Mission-Based Admissions: A Holistic Approach to Selecting Future Stritch Physicians
An interview with Assistant Dean for Admissions, Recruitment and Student Life Sunny Nakae, MSW, PhD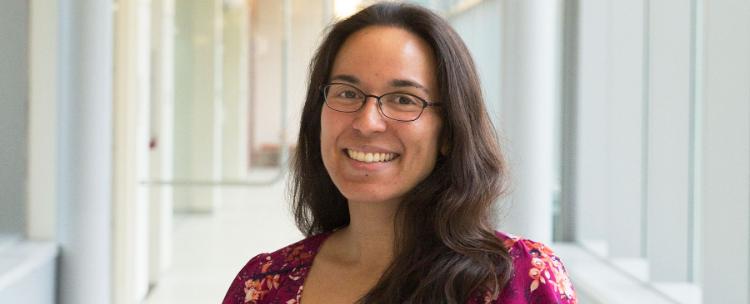 How many applications did Stritch receive this year?
For the 2017-2018 admissions cycle Stritch received a record-high 15,015 applications from the American Medical College Application Service (AMCAS). This was a 32 percent increase in the number of AMCAS submissions for the previous cycle, which was also an all-time high.
How do the faculty at Stritch decide which applicants will receive one of the 165 seats available in the class?
The admissions process is multi-phased and includes five committees: recruitment and outreach, review, interview, selection and executive. Complete files begin with a holistic review where a reader assesses the file for mission components and uses a rubric to score it. Files scoring high review are then presented to the committee chair for interview selection. Interview committee members conduct two interviews: one with all file components and one with only the essays and experiences portions of the application. Both interviewers score the file using a comprehensive rubric. Three randomly assigned selection committee members synthesize interview and review reports and offer an overall quality score. Finally, all seven scores are averaged and presented to the Executive Admissions Committee (EAC) for final decision. The EAC is comprised of nine voting faculty members including the chair. These faculty members collectively represent both medicine and basic sciences, primary and specialty care, along with a diversity of identities across race, sexuality, age, gender, and beliefs.
How do the faculty ensure that the students they select will be aligned with the mission and values of the Stritch School of Medicine?
Our admissions process is focused on selecting students who have demonstrated evidence in fulfilling our mission of meeting the needs of underserved communities locally and globally. The rubrics contain core areas, such as leadership, service, and commitment to Jesuit values, that allow committee members to compare applicants on several mission-focused parameters. The rubrics also contain academic growth and performance areas like research, academic rigor, and GPA.
Why can't we just select our classes from only applicants with top MCATs and GPAs? Isn't that the most fair?
AAMC data report the average GPA for the 51,680 applicants who applied through AMCAS last year was 3.56, and the average MCAT score was 504.7. The average GPA for the 21,338 matriculants to allopathic schools was 3.71 with an average MCAT of 510.4 respectively. Practically speaking, we cannot reduce our pool of applicants effectively using a numbers sorting method. Additionally the numbers may seem objective, but they do not tell the entire story of preparation for an applicant. Applicant A may have attended a tough college and taken on a difficult major with a final GPA of 3.4. Applicant B may have attended a less rigorous school and chosen an easy major with a final GPA of 4.0. Which one is more prepared for medicine? The numbers alone cannot tell us. Hence the need for Stritch to utilize holistic review.
It is also important to note that holistic review is now the norm among medical schools. Each year applicants with very high numbers receive no offers of admission at any school (AAMC facts data). Last year 10 percent of applicants with GPAs of 3.79 or greater and MCATS of 517 or greater received no offers of admission from any AMCAS school. For all GPA and MCAT combinations representing high or very high numbers there are applicants not receiving offers. This indicates an important distinction for allopathic medicine: the universal interview. We know that someone can be academically prepared for medicine but not the right fit interpersonally.
Finally we must understand enrollment management principles in order to effectively manage an application process and ensure a class at the end of the cycle. Choosing applicants who pick Stritch due to mission creates a higher likelihood that they will matriculate among multiple offers. If we were to interview by numbers alone without attention to mission-fit, we would risk losing all candidates with multiple offers to schools that are less expensive, closer to home, etc. Since moving to our mission-based process we have reduced the number of candidates withdrawing their offers of acceptance early (before January 1) from 55 to 5. This means candidates we are choosing to interview are serious about their candidacy at Stritch and we are not a 'safety school' for them.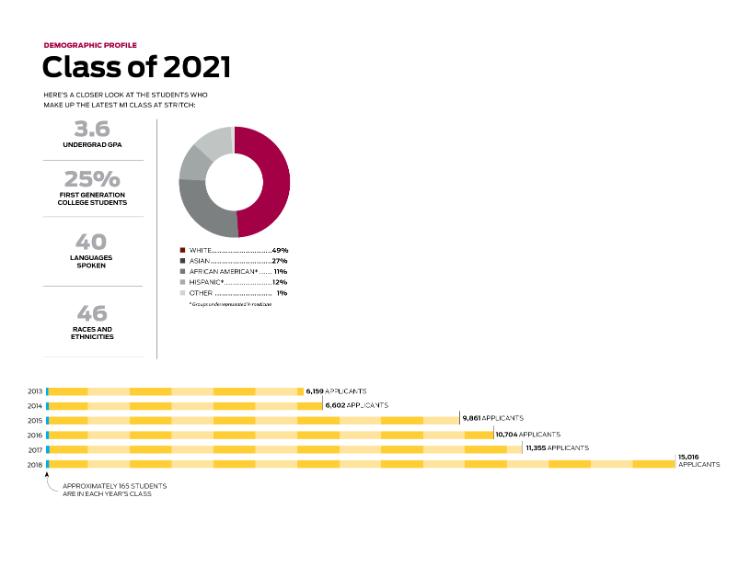 What is holistic review?
Holistic review is a process in which experiences, attributes, and metrics are given balanced consideration to evaluate a candidate's preparation for medicine. These elements when considered in combination help decision makers determine an applicant's potential contribution to the educational environment of medical school and as a physician. Reviewers are able to evaluate each applicant in context of their choices and circumstances while also attending to mission-based areas and academic standards. Holistic review is particularly well-suited to identify talent in post-baccalaureate students, non-traditional students, and students from diverse backgrounds. Holistic review means that each complete application receives an individualized assessment to determine merit for Stritch. This past cycle the committee completed 9,802 reviews—this was 40 percent more than last cycle.
How does the committee accomplish so much work every cycle?
Stritch is fortunate to have dedicated faculty, staff and students who give their time to contribute to the admissions process. We are indebted to a wonderful group of volunteers who each contribute to the process of recruiting, screening, interviewing, scoring and selecting candidates amidst their full-time responsibilities. We have had student reviewers read more than 250 files and faculty reviewers read more than 700 in one season. If you would like to become involved in this phenomenal effort, please contact me, I am always recruiting volunteers.