Hours and Services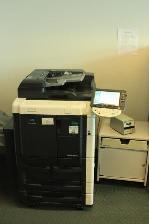 -The CALL is open to students and staff via cardkey access 7 days a week, 24 hours a day. There are 26 Lenovo Windows and 4 Apple PC's in SSOM room 254. All are fully internet enabled with MS Office 2013 Pro, Adobe Creative Cloud applications and the standard LUC Statistics programs.
-Computer printing and photocopying are available in black & white for $ .06 /page in 254 at the Konica unit on the East side. Color printing and color/b&w copying is available for $ .10 /page at the Xerox unit on the West side of the room in 254. Black and white printing is also available on this same Xerox unit for $ .06 /page as well.
-CALL support staff are present Monday thru Friday from 12:30 pm - 4:30 pm in 256 (off 254). Please phone 65992 if there are printing or other urgent needs during ALL regular business hours.
-Priority for use of the CALL is given to students in the Stritch School of Medicine. Residents are encouraged to use the computer resources available in their department. During periods of heavy use, non-SSOM students may be asked to surrender their machine for use in the medical curriculum.
-Administrative support is provided for the LUC Sakai Course Content Management System through faculty sponsorship.