Diversity Statement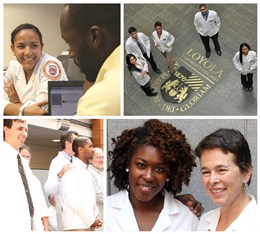 The Stritch School of Medicine is dedicated to building a diverse and inclusive community that upholds access, equity, and excellence as core values. We believe that diversity is integral to our mission of transformative education, innovative discovery, and service to others. We are committed to achieving excellence by utilizing the rich talents of people who infuse different backgrounds, perspectives, and experiences into the work and learning environment and who reflect the diversity of the populations whose health we hope to impact. As such, we embrace a broad spectrum of human expression and characteristics that includes but is not limited to race, ethnicity, gender, socioeconomic status, disability, sexual orientation, religion, military or veteran status, and age.
Our Jesuit tradition calls all faculty, students, and staff to intentionally honor the dignity of all persons and promote social justice.
To that end, we aim to value the contribution of all individuals and create an environment that inspires a cadre of talented people to become leaders in science and medicine. By fostering a vibrant and dynamic culture of inclusion, the Stritch School of Medicine will continue to welcome opportunities to address challenges in health care and excel in academic medicine.
Click here to View the full Diversity Policy