Faculty Spotlight: Norma Lopez, MD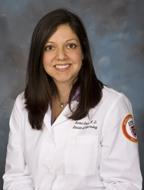 Dr. Norma Lopez is an Assistant Professor in the Department of Medicine, Division of Endocrinology and Metabolism. She attended medical school at University of Illinois Chicago and completed her residency training at Loyola where she was Chief Resident in Internal Medicine. After residency, Dr. Lopez continued on with fellowship training where she specialized in Endocrinology and Metabolism at Loyola and also completed a second fellowship in Thyroid Cancer at Memorial Sloane-Kettering Cancer Center.
Why did you choose a career in academic medicine?
I enjoy the camaraderie that I experience every day as I work alongside experts in my field and in the many subspecialties within medicine. I feel that academic medicine bring together experts that enjoy teaching the next generation of physicians and newer faculty.
Did you have any mentors that were particularly influential, and if so in what ways?
I have been fortunate to have many amazing mentors along the way. During my internal medicine training Dr. Teresa Kristopaitis (now a hospitalist) was influential by helping me establish a pattern of approaching patient care in a systematic and thorough manner as well as thinking "outside the box" when needed. This has helped me throughout my training and now in practice. During my fellowship, my mentor Dr. Maryanne Emanuelle is one of the most compassionate physicians I know and truly taught me what it means to treat that human spirit. During my thyroid cancer fellowship, Dr. Mike Tuttle, was very influential by being very passionate and excited about the field of thyroid cancer.
What are the major challenges involved in managing a career with so many forces that are vying for your time?
Prioritizing and finding balance in life are not always easy. It is difficult to find time to always be on top of everything. The major challenge is deciding what the priority is for that day or month and to accept the fact that everything you want to accomplish cannot always be done all at once!
Tell us about your research interests:
Currently, I do not have any ongoing research project but my special interest is in the field of thyroid cancer. There is a developing field of testing thyroid nodules for special genetic marker to help us determine which nodules are cancerous and which are benign. I would like to make this testing readily available to our Loyola patients.
What advice would you give to a medical student about deciding whether to go into private practice or academic medicine?
Talk with physicians in both private practice and in academic medicine. Ask them what the best and what the worst part of their job is. This will help you decide what best suits your goals and lifestyle.