Health Professionals Recruitment and Exposure Program
HPREP is our signature outreach program, for high school students in the Maywood, Cicero and Berywn area, designed to attract underrepresented students to careers in the health professions. The Stritch HPREP program features a unique integrated curriculum that enhances academic, professional and social development of participants.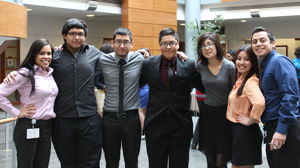 HPREP is a program dedicated to alleviating health care disparities by encouraging high school students from underrepresented groups and/or from disadvantaged backgrounds to pursue careers as health professionals. The program takes place on Saturday mornings at the School of Medicine and students engage in a variety of structured activities that included hands-on workshops, panel sessions and group mentoring.
During the five-week program, 10th-12th graders are exposed to physicians, nurses, pharmacists and other health care professionals from underrepresented groups, who provide them with a better understanding of the journey to a career in health related fields. In addition, the students participate in small-group activities led by medical student mentors from Stritch. At the end of the five week session students give a research presentation on health disparities to family, faculty and friends and receive a certificate of completion.
Program Components/Goals:
Cultivate an interest in health professions early in educational trajectories
Introduce students to racial, ethnic and socioeconomic disparities in health and health care and ways to combat inequities
Expose high school students to role models in various health careers (doctors, dentists, occupational therapist etc.) from underrepresented minority groups
Provide students with skills, tools and resources necessary to navigate the educational path from high school to a professional degree
Familiarize students with how to conduct research on health disparities and present findings
HPREP Application Instructions
Click here to apply