Message from the Chair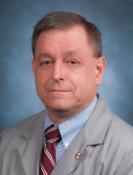 The Department of Emergency Medicine at Loyola University Chicago is the academic arm for the Emergency Department of Loyola University Medical Center. Our members not only provide the care for patients in our ED, but are active in education and research.
Our collaborations within the university and outside agencies have enabled us to shepherd various studies and programs benefiting our patients and the field of emergency care. Our educational divisions enhance an understanding of the fields of Toxicology, Emergency Medical Services, and Disaster Medicine. Physician research interests have led to advances in both the delivery and processes of care. Our research collaborations with Illinois Department of Public Health through the Emergency Medical Services for Children Grants have and continue to address questions affecting the overall care of children in Illinois Emergency Departments.
Our goals are simple; provide the best possible care to patients presenting in a dynamic status where a complete picture of their underlying illness is not yet evident.
Best regards,
Mark E. Cichon, D.O., FACEP/FACOEP (dist)
Professor & Chair - Department of Emergency Medicine
Loyola University Chicago - Stritch School of Medicine
Division Director - Emergency Medical Services
Loyola University Medical Center