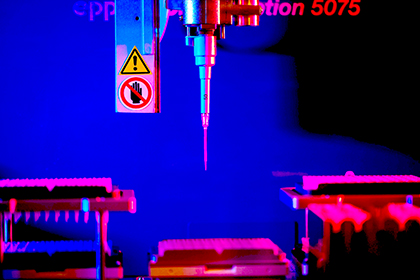 The Loyola Genomics Facility has adopted 3 automated machines: the epMotion, IonChef, and the QIAcube. Automation facilitates faster workflow time while maintaining top notch quality.
The epMotion allows for the automation of many protocols, from extraction all the way through library prep. It can be programmed to adjust for different chemistries and reagents, different sample types, and so much more. The epMotion can work on up to 96 samples at once.
The IonChef System allows for the automation of library preparation and chip loading. It provides an efficient workflow when paired with the Ion GeneStudio to allow for a quick turnaround.
The QIAcube allows for the automation of nucleic acid purification using spin columns. It uses a simple lyse, bind, wash, elute procedure. It enables seamless integration into laboratory workflow. The QIAcube can process up to 12 samples at once.