Peter Larsen, PhD
Genomics Assistant Director
My research interests are to apply to tools of computational modeling approaches and artificial intelligence approaches to understanding the molecular mechanisms of microbial community dynamics. Microbial communities are characterized by their tremendous diversity and their functional redundancy. These communities of microorganisms and how they interface with their environment are defined less by the presence or abundance of single species, but rather by the emergent properties of their metabolic and regulatory interactions. Using high-throughput transcriptomic, proteomic, and metabolomic data, it becomes possible to identify the underlying patterns of interactions between organisms and between organisms and their environment.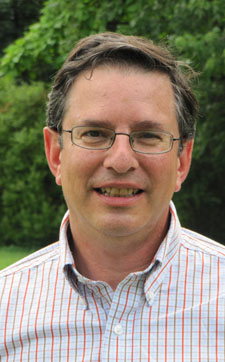 Dr. Alan Wolfe
Director, Loyola Genomics Facility
Email: awolfe@luc.edu

Lana Tinawi, B.S.
Research Assistant, Loyola Genomics Facility
Lana recently graduated in May 2020 from Loyola with a B.S. in Biophysics and a minor in Math. During her time at Loyola, she was a Resident Assistant, a Physics Teaching Assistant, and a Research Assistant in a Drosophila lab and an Applied Physics lab, along with getting some bioinformatics experience in gene annotation. She is intrigued by the intersectionality of the sciences and loves a good challenge.