Graduate School
A Message from the Associate Dean of the Graduate School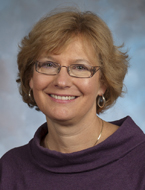 This is an exciting time in biomedical research and healthcare, a time of unprecedented change and opportunity for those trained to meet the evolving scientific and professional environment.
The exponential growth in our understanding of mechanisms underlying health and disease is paralleled by the need for collaborative interdisciplinary research and by the rapid expansion of a truly global scientific and healthcare community.
Our faculty and programs at the Health Sciences Campus are committed to preparing individuals who will excel in this world, contributing to the evolution of scientific knowledge and its impact on the future of healthcare and healthcare delivery.
Leanne Cribbs, PhD
Associate Dean, The Graduate School, Stritch School of Medicine
Director of Graduate Programs, Stritch School of Medicine