Alcohol in advanced lung disease and lung transplant: impact on organ allocation, lung donors and recipients
by Erin Lowery, MD, MS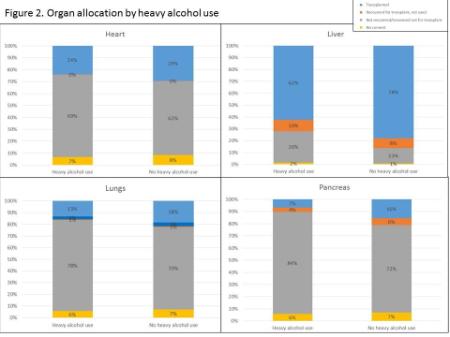 Alcohol misuse is common in the United States, although information about the alcohol use of people with advanced lung disease and their potential lung donors remains relatively unknown and sparsely investigated. People who misuse alcohol are more likely to suffer complications such as sepsis, pneumonia, and acute lung injury. Each year almost 2700 people with advanced lung disease need lung transplant, and 10,000 deceased organ donors are utilized. Despite this, there continues to be a gap between the supply and the demand for organs needed for life-sustaining transplantation, with less than 25% of eligible donors allocating lungs acceptable for lung transplantation. The aim of our laboratory is to investigate what role alcohol may have on availability of lung allografts, the lungs ability to tolerate ischemia-reperfusion and possible consequences for the pulmonary innate immune response during the lung transplant process, as well as any potential effects alcohol may have for people with lung disease and those undergoing lung transplant.
Utilizing the United Network of Organ Sharing's transplant registry, we identified 77,447 deceased donors from 2005-2017, of which 16.7% were heavy alcohol users (≥ 2 drinks per day). Heavy alcohol users were less likely to have an organ allocated for transplant across all organ types except for kidney (p<0.01).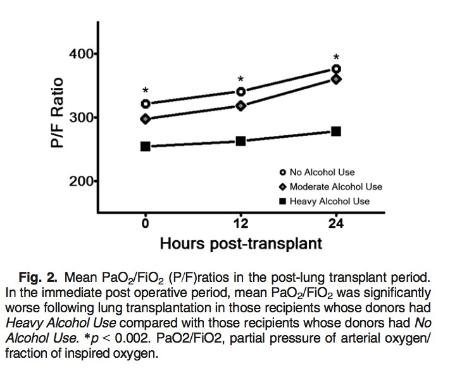 In a retrospective cohort of lung donors, we noted that recipients of donors with heavy alcohol use had an over 8 times greater risk of developing severe primary graft dysfunction (PGD), an acute lung injury that occurs in the first 72 hours post-lung transplant. The increase in PGD resulted in poorer gas exchange in the recipients of donor lungs from heavy alcohol users and these recipients subsequently required mechanical ventilation for a longer time following transplant.
Recognizing and quantifying alcohol use in brain dead organ donors can be difficult, and relies on by-proxy histories. The addition of a measurable alcohol biomarker may provide additional objective information about the donors' alcohol use. Utilizing the alcohol biomarker phosphatidylethanol (PEth), a direct alcohol biomarker present on circulating red blood cells and measureable for up to 2-3 weeks after binge drinking, we identified a PEth cutpoint of ≥84 ng/mL as providing optimal discrimination for the identification of alcohol misuse in organ donors [sensitivity 75% (95% CI 52.9%-89.4%) and specificity 97% (95% CI 91%-99%)]. Other alcohol biomarkers performed poorly in organ donors.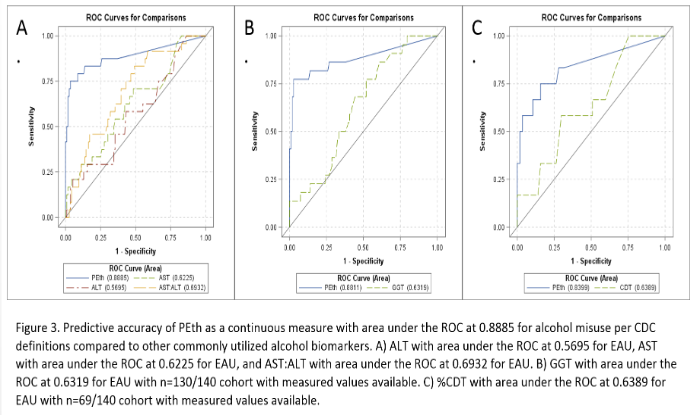 Alcohol use in patients with advanced lung disease and those awaiting lung transplant has not been previously investigated. We found that amongst those with advanced lung disease awaiting lung transplant, 34% currently used alcohol, 13% had Alcohol Use Disorder Identification Test (AUDIT) scores >3, and 10% had positive PEth at the time of transplantation, indicating low-moderate alcohol use. Patients with evidence of recent alcohol use had a 1.5 fold increase in hospital length of stay (p=0.028), spent 3 times as long on mechanical ventilation, and required intensive care unit (ICU) monitoring nearly 3 times longer than those without recent alcohol use (p=0.008).

PUBMED links:
Lowery EM, Walsh M, Yong M, Kovacs EJ, Joyce C, Afshar M. Use of alcohol biomarkers in an organ donor population. Alcohol 2018.
Lowery EM, Yong M, and Joyce, C. Recent alcohol use prolongs hospital length of stay following lung transplant. Clinical Transplantation 2018. PMID 29620796

Lowery EM, Kuhlmann E, Mahoney EL, Dilling DF, Kovacs EJ. Heavy alcohol use in lung donors increases the risk for primary graft dysfunction. Alcohol Clin Exp Res 2014;38(11):2853-61. PMID 25421520

Afshar M, Burnham E, Joyce C, Clark B, Yong M, Gaydos J, Cooper R, Smith G, Kovacs EJ, Lowery EM. Cut-point levels of phosphatidylethanol to identify alcohol misuse in a mixed cohort including critically ill patients. Alcoholism: Clinical and Experimental Research 2017. PMID 28792620
---
Current Rheumatology Research:
CSP 594: VA multicenter clinical trial: Comparative Effectiveness in Gout: Allopurinol vs. Febuxostat (Stop Gout) Study. Rochella Ostrowski MD, Site Principal Investigator for Hines VA. 2016 to present.
Collaborative study: Genetic and phenotypic polymorphisms of complement C4 in the pathogenesis of Sjögren's Syndrome. Funded by Sjögren's Syndrome Foundation. Yee Ling, PhD, Rochella Ostrowski MD, Rodney Tehrani MD.
LU 209260: Treatment Patterns and Outcomes for Patients with Cardiac Sarcoidosis.
Rochella Ostrowski MD, Saba Ziaee MD, Siri Kunchakarra MD, Mark Rabbat MD, Rodney Tehrani MD. 2017 to present
LU 209944: Outcomes of Patients with Rheumatoid Arthritis Requiring Methotrexate 20mg weekly and Need to Escalate Therapy to Biologic Therapy. Rochella Ostrowski MD, Matthew Herrmann MD, Rodney Tehrani MD. 2017 to present
LU 204977: Retrospective study: Clinical predictors for a Positive Temporal Artery Biopsy in Giant Cell Arteritis, and Treatment Outcomes of Empiric Therapy. Rochella Ostrowski MD, Jessy Dabit MD, Christopher Kasia MD
LU 207536: Retrospective study on treatment outcomes for patients with erosive osteoarthritis, comparing hydroxychloroquine, prednisone, and non-steroidal anti-inflammatory drugs.
Rochella Ostrowski MD, Sheela Metgud MD
Retrospective study: Does long term Hydroxychloroquine treatment provide benefit to individuals with systemic lupus erythematosus? Zineb Aouhab, MD, RhMSUS, Christopher Felicelli (Medical Student), Rochella Ostrowski, MD
LU 207316: Are anti-CCP titers predictive of cardiovascular events in RA patients? Retrospective Study. Data collection complete; analysis completed. Manuscript submitted and accepted pending revisions.
Sarah Fantus MD, Andy Heisler MD, Melissa Briones MD, Rochella Ostrowski MD
LU 205696: Anti-Citrullinated Peptide Antibody Titers and the Prevalence of Interstitial Lung Disease in Patients with and without Rheumatoid Arthritis. Retrospective Study. Manuscript submission in progress. Chase Correia MD, Brittany Panico DO, Melissa Bussey MD, Rong Guo PhD, Rochella Ostrowski MD
Retrospect Study: Contraception in women of childbearing age who are treated with mycophenolate mofetil, leflunomide, or methotrexate: patient behaviors, adherence, and understanding.
Sarah Tarplin MD, Wiliam Adams MS, Melissa Briones MD, Rochella Ostrowski MD

Retrospective Study: IgG4 disease above the neck manifestations and treatment. Sheela Metgud MD, Saba Ziaee MD, Rochella Ostrowski MD, Rodney Tehrani MD
LU 210787: Specialty Pharmacy Medication Services. Annu Shah, Rodney Tehrani MD
PCORI (Pending): University of Alabama is the Principle site. Loyola will be a collaborative site regarding a study on patient outcomes in SLE using educational materials in the waiting room. Zineb Aouhab MD, Rochella Ostrowski MD, Rodney Tehrani MD
---