M.S. in Biochemistry and Molecular Biology
Goal
The goal of the M.S. program in Biochemistry and Molecular Biology is to train students in the basic science and methodology of Biochemistry and Molecular Biology, to allow them to apply this knowledge in jobs as research assistants in academy or the biotechnology industry, or as teachers in primary or secondary education. Students graduating with an M.S. degree often obtain additional education in PhD and MD programs.
Tuition
Tuition for the academic year (2020-2021) is $1,140/credit hour, and M.S. students are required to take a minimum of 24 credits over the two year course of study. All research supplies and equipment required for an M.S. student's research projects are provided at no cost to the student. Please reference the following link for more details: Tuition and Fees.
Classes
Graduate classes are small and a strong emphasis is placed on current scientific literature. The program holds a weekly Journal Club, which allows students to present seminars on current research articles of their choice. A dynamic seminar series brings more than twenty nationally recognized molecular biologists to present their research and meet with graduate students.
Curriculum
The M.S. curriculum consists of three core courses in the first semester (Molecular Biochemistry, Cell Biology and Methods in Biomedical Sciences), including courses from the basic science departments of the Medical School, and courses taught by the program faculty. In addition to these classes, all students must enroll in the Biochemistry and Molecular Biology Journal Club and the Biochemistry and Molecular Biology Seminar every semester until graduation. Students conduct independent, original research projects, upon identifying an advisor and joining a lab. This occurs after the second semester for PhD students and after the first semester for M.S. students.
Typical Biochemistry and Molecular Biology MS Student Schedule
| | | |
| --- | --- | --- |
| Year 1 - Fall | Spring | Summer |
| Molecular Biochemistry | Molecular Biology | Research |
| Cell Biology | Biostatistics | Thesis Proposal |
| Methods in Biological Sciences | Elective #1 | |
| Ethics in Biomedical Sciences | Research | |
| | Join Advisors Lab | |
| Year 2 | | |
| Research | Research | Research |
A personal interview is required for admission. For international applicants an interview by telephone must be arranged.
---
Graduate Placement Information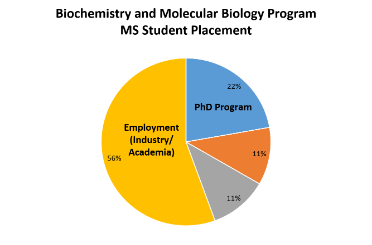 56% Employment (Industry/Academia)
22% PhD Program
11% Medical School
11% Law School
For more information:
Fill out a request at the following link: REQUEST INFORMATION.
Be sure to identify your interest by choosing the Biomedical Sciences category and selecting Biochemistry and Molecular Biology!