About Us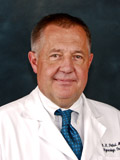 The Department of Obstetrics & Gynecology at Loyola University Medical Center provides compassionate, patient-centered obstetric and gynecologic care for every stage of a woman's life.
Services include primary and preventive health care, labor and delivery in homelike suites, postpartum and breastfeeding support, and infertility treatments.
Loyola University Health System (Loyola) is recognized as a leader in the region for gynecological cancer treatment at the Cardinal Bernardin Cancer Center, a state-designated perinatal network and obstetrical intensive care unit, and a multidisciplinary center for treatment of incontinence and female pelvic floor problems.
Ronald K. Potkul, MD
Chair