Humanitarian Awards (AAO)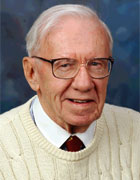 James E. McDonald, MD, is well-known in eye care circles both as a superb ophthalmologist and an outstanding humanitarian. In 1962, he co-founded FOCUS, Inc. (Foreign Ophthalmologic Care From the United States) to provide eye care to the people of Haiti. Since 1976, FOCUS has concentrated on Nigeria, and Dr. McDonald for many years spent four weeks each year in this woefully underserved nation. He has been active in raising funds, securing donations and recruiting ophthalmologists. In recognition of his humanitarian efforts, he was awarded the Stritch Medal of the Loyola University Stritch School of Medicine in 1979, the Presidential Award of the Illinois Association of Ophthalmology (1996) and the 1997 Outstanding Humanitarian Service Award of the American Academy of Ophthalmology. In 1988 he was conferred with a traditional chieftaincy title of Obong Uwana Abak (Chief of Light) by the Nigerian paramount ruler. Dr. McDonald is now retired from practice and is Professor Emeritus at Loyola but continues his involvement with and support of FOCUS. It is our honor today to acknowledge his contributions to humanity.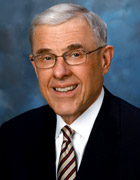 Richard G. Gieser, MD, has made annual trips to underserved countries including Afghanistan, People's Republic of China, Mongolia, India, Romania, and Jordan for the past 23 years, providing retinal care to patients and teaching local physicians new techniques so that they may carry on after he leaves. He has hosted foreign guests for prolonged periods of time to enhance their educational opportunities, and his extensive experience has made him a resource for physicians planning similar trips. In his local community, Dr. Gieser volunteers with a prison ministry, helping ex-convicts to become reintegrated in the community. He also provides free eye care in his community for people in need. Dr. Gieser received the American Academy of Ophthalmology Outstanding Humanitarian Service Award in 2002 for his commitment to providing both patient care and teaching around the world. Dr. Gieser is currently a senior partner in the Wheaton Eye Clinic and a Clinical Associate Professor at Loyola University Medical Center. We are privileged today to recognize his humanitarian efforts.