Richard A. Perritt, MD Charitable Foundation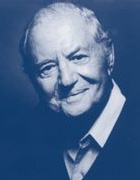 For 35 years, Ron Tyrpin served as an investment adviser to one of the pioneers of ophthalmology who practiced in Chicago. Richard A. Perritt, MD, performed eye surgeries on two popes and various worldwide dignitaries, and was responsible for several breakthroughs in the field. When Dr. Perritt died in 1991, Mr. Tyrpin and his wife, Diane, of Barrington Hills, began to serve as trustees of the newly established Richard A. Perritt Charitable Foundation.
Due to knowledgeable investments, as a result of astute financial management, the Foundation has been fortunate to be able to fund numerous projects close to the heart of Dr. Perritt-pioneering ophthalmology research, education, children's health care and senior programs.
The Loyola University Health System's Department of Ophthalmology is one of the major beneficiaries of the foundation. Substantial funds from the Perritt Foundation have helped the department achieve regional and national prominence for its faculty and residency programs, and at the same time, bolster its research and pediatric initiatives.
In addition, the foundation has funded scholarships in the Loyola University Chicago Stritch School of Medicine and the Marcella Niehoff School of Nursing and has promised future support, as well.
"It's very, very satisfying to fulfill Dr. Perritt's wishes," explains Mr. Tyrpin, whose entire family is involved in the foundation. Its secretary/treasurer is Diane Tyrpin, a Loyola University Chicago alumna who now is retired from the Barrington School District. Sons John, also in the investment field, and Mark, an Quincy, Ill., banker, both serve on the board. "We want to perpetuate the good works of the foundation," explains Ron Tyrpin, foundation president, who still is active as an investment advisor.
In these times of economic uncertainty, the foundation is deluged with requests. The family works hard to make sure the money is used as promised, to stay true to the principles of Dr. Perritt, who "never took 'no' for an answer," Mr. Tyrpin says. "It's a hands-on kind of business," observes Mr. Tyrpin. "With hard work and luck, we hope to continue to fulfill more and more of Dr. Perritt's wishes.
Helping Physicians to Advance Patient Care


article from Loyola's Vision Philanthropy Update




Richard A. Perritt Charitable Foundation




Helping Physicians to Advance Patient Care


"Without independent funding, it's extremely hard to run a robust program, but Perritt has allowed us to do that."
- Charles Bouchard, MD