Medical Students
Third Year - Clerkship
As we get into the 21st century, we are increasing the use of technology in transmitting information to you. Everything you will need for your clerkship is available through LUMEN. Please visit the Pediatrics Clerkship section of LUMEN.
If you have questions, please don't hesitate to e-mail Ana Juarez or call (708) 216-5319. We will be happy to answer your questions.
Fourth Year - Elective Rotations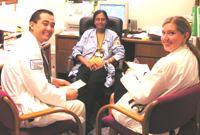 The Department of Pediatrics offers several electives for fourth year students in the Pediatric Subspecialties and in the Intensive Care Units. Loyola Students may select rotations in the intensive care units to fulfill the ICU SUB-I requirement.
Rotations in the subspecialties are selected by lottery on designated dates distributed by the registrar. Loyola students have first access to the offered electives. Students from other institutions are welcome to rotate on services that have openings. Please e-mail Ana Juarez or call (708) 216-5319 with any questions.
Subspecialty electives* include:
Adolescent
Behavior and Development
Cardiology
Emergency Medicine
Endocrinology
Gastroenterology
Genetics
Hematology/Oncology
Infectious Diseases
Neonatal Intensive Care Unit (elective not sub-i)
Nephrology
Nutrition
*not all electives are offered each month