Message from the Chair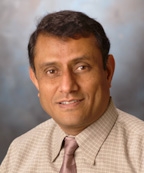 The Department of Psychiatry at Loyola interfaces with a wide array of clinical specialties. We are an important player in the overall health system structure at Loyola University Medical Center. The support our department has received from the hospital leadership at all levels is very commendable, as they have shown a great appreciation for issues related to mental health and the importance of psychiatric education.
We are happy to be engaged in a seamless liaison with Edward Hines Jr. VA Hospital and Madden Mental Health Center for our education and training needs. These combined clinical facilities on one campus offer an excellent clinical base in Psychiatry that is unique to our program as compared to others in Chicago.
A major effort is focused on enhancing the educational enterprise, thereby attracting strong residents into the program. Residents and faculty have rallied behind this approach and greatly enhanced the recruitment process for psychiatry and psychology residents and fellows. This last academic year the department filled all of its positions in the match. There also have been dramatic advances in research activities at the department, initiating increase in funding, manuscript publications, and scholarly presentations.
Consistent with these educational developments, there has been a revival of interest in psychiatry among medical students at the Stritch School of Medicine. The very vibrant psychiatry interest group amongst medical students grows every year, and now more medical students than ever before are going into the field of psychiatry here at Loyola.
Mental illness touches many of our lives. The statistics about the incidence and prevalence are not easy numbers to read and it's coexistence with other physical illnesses is even more staggering. Here at Loyola, we strive to increase awareness of mental health and its issues within our community and beyond.
I passionately believe that we are in the right place to grow and further establish ourselves as one of the most accessible health centers in Chicago area - positioned between the city of Chicago and its western suburbs and having Gottleib Hospital in our Loyola group.
Thank you and we hope to see you here at Loyola.
Murali Rao, MD, DFAPA, FAPM
Professor and Chair
Department of Psychiatry and Behavioral Neurosciences