Breast Imaging
Breast Imaging Services at Loyola University Health System consists of two arms, Screening Mammography and Diagnostic Breast Center.
Screening Mammography is the service that the majority of our patients utilize and is offered to women without any symptoms worrisome for breast cancer. Early detection is the best way to find breast cancer in its most curable stages, and the early detection of breast cancer by screening mammography has been shown to dramatically decrease mortality from breast cancer by 30 to 40 percent or more. We recommend that women have a screening mammogram every year beginning at age 40. Women who are at higher than average risk of developing breast cancer should begin screening earlier than the age of 40. Screening mammography is offered on a same-day or next-day basis Mondays through Saturdays at the Loyola Outpatient Center at our main campus in Maywood, as well as at our four satellite clinics located in Burr Ridge, Oak Brook Terrace, Orland Park and North Riverside. Be assured that all screening mammograms are interpreted by radiologists who specialize in breast imaging and staff our Breast Diagnostic Center in the Loyola Outpatient Center at our Maywood campus.
If you have had a screening mammogram that had findings of concern or if you have a worrisome breast symptom or a history of breast cancer, you will require specialized workup and will be referred to our Breast Diagnostic Center at the Loyola Outpatient Center in Maywood for complete diagnostic breast imaging evaluation. Specifically, diagnostic breast services are offered to all patients with a newly diagnosed breast cancer, past history of breast cancer, or a breast symptom that requires more thorough evaluation than afforded by screening mammography, including such breast symptoms as a palpable mass or area of thickening, skin thickening or redness, nipple discharge or a focal area of breast pain. At our Breast Diagnostic Center, all exams are tailored to each individual's problems, and again imaging interpretations and biopsy procedures are performed by Loyola radiologists who specialize in breast imaging.
Appointments at our Breast Diagnostic Center at the Loyola Outpatient Center in Maywood are available Monday through Saturday with patients able to schedule their appointment easily within one week and typically same day or next day for urgent breast problems. While many of our breast cancer patients prefer to schedule their diagnostic examinations on the same day as their appointment with their surgeon or medical or radiation oncologist, Saturday diagnostic breast imaging appointment times have become quite popular and are particularly appreciated by our breast imaging patients who work or have child care or transportation issues to consider.
Breast Imaging at Loyola University Health System is recognized as an American College of Radiology Breast Center of Excellence.
MISSION
The mission of Breast Imaging at Loyola University Health System and the Loyola Diagnostic Breast Center is concerned with the timely diagnosis of breast cancer and other breast disorders. We provide a full spectrum of breast care imaging, ranging from mammography to ultrasound to magnetic resonance imaging (MRI).
Our breast care specialists are committed to providing expert screening and diagnostic services using the very latest technology in diagnostic equipment for breast imaging and specialized breast procedures, including digital mammography, ultrasound, MRI and image-guided breast biopsies.
Likewise, our professional staff is committed to providing your breast imaging care in a relaxing and safe atmosphere. Our technologists strive to minimize your discomfort while efficiently obtaining the views necessary for an accurate reading and diagnosis. When it comes to your mammogram, you can relax knowing that highly experienced technologists will handle your screening and diagnostic imaging respectfully, and that your comfort will be maximized and your privacy maintained. Our experienced breast care staff will also answer your questions and can often ease your concerns.
OBJECTIVES AND GOALS
Breast Imaging at Loyola is foremost concerned with the timely and accurate diagnosis of breast cancer and other breast disorders. Using state-of-the-art digital equipment enables our breast radiologists to view images of the breast more quickly and to see breast lesions more clearly. By allowing our breast radiologists to view breast images more quickly, digital mammography enables them to make immediate decisions about the need for additional images. In addition, the ability of digital mammography to zoom in on specific areas within the breast especially helps detect small calcifications, masses and other often subtle changes that may be signs of early breast cancer. Digital mammography has been proven to be particularly useful in the evaluation of premenopausal patients and patients with dense breasts.
Breast Imaging at Loyola is very committed to the patient, especially in terms of access. Besides offering same-day or next-day appointments for screening mammography, our team offers timely appointments for our diagnostic patients, including convenient Saturday hours. Screening mammograms are typically read on the same or next day by our experienced breast radiologists.
We certainly understand the concern and stress that screening mammography may cause. You will receive a letter in the mail with information about your screening mammogram and any information should you require follow-up. We want you to feel confident that, should your screening show an abnormality, our team of specialists within the Breast Diagnostic Center will answer all of your questions and keep your primary physician fully informed.
Patients benefit from our same-day approach to diagnostic mammography in which patients receive their work-up and results directly from either the interpreting radiologist or technologist, resulting in either reducing anxiety or allowing the patient to move quickly on to a treatment plan. Should any follow-up tests or procedures be required, we work with you to schedule them as quickly as possible and according to your schedule.
This same-day turn-around time not only helps reduce your anxiety, but also allows us to return your results to your referring physician more quickly. Lastly, and most importantly, should further care be required, a plan can be developed and implemented more quickly.
Most breast concerns will turn out to be benign and not cancerous. However, if your breast workup or routine screening reveals cancer, Loyola provides ongoing care by a nationally recognized Breast Cancer team (LINK). In fact, our breast imaging team of radiologists is an integral part of Loyola's multidisciplinary Breast team (LINK) consisting of surgical oncologists, medical oncologists, radiation oncologists, pathologists, gynecologic oncologists and plastic surgeons in addition to radiologists who specialize in breast imaging as well as our caring and professional support staff, including technologists, oncology nurses, genetic counselors, psychologists, dietitians, social workers and chaplains who will tailor their level of support to each individual patient. Genetic counseling (LINK) and access to the High Risk Clinic (LINK) are also available for those patients and their families at increased risk of developing breast cancer.
If you would like to make an appointment, please call us at (888) LUHS-888.
CLINICAL ACTIVITIES
The primary concern of the breast radiologist at Loyola University Health System is the patient. Our clinical duties and activities are concerned with specialized breast imaging, specifically screening mammography, diagnostic mammography, breast ultrasonography and breast magnetic resonance imaging, primarily at the Loyola Outpatient Center, while also covering screening mammography at the four western and southwestern Chicago suburban satellite locations in Burr Ridge, Oak Brook Terrace, Orland Park and North Riverside. As radiologists specializing in breast imaging, we are involved in the daily interpretation of screening mammograms and are also responsible for tailoring and interpreting diagnostic breast imaging examinations of patients with newly diagnosed or treated breast cancer and patients with new focal breast complaints, including palpable lumps or masses, focal pain, nipple discharge, skin thickening and redness, etc. Our breast radiologists are also responsible for interpreting magnetic resonance imaging studies of known recently diagnosed or treated breast cancer patients, patients at increased risk for breast cancer, or complex diagnostic cases. As expected, diagnostic patients in a tertiary care center can often require complex diagnostic evaluations, particularly with regard to staging and detection of multicentric (breast cancer occurring in different quadrants or quarters of the breast) and/or multifocal (more than one breast cancer occurring in the same breast quadrant) disease. Our expert breast radiologists also review breast imaging performed at outside institutions and prepare written interpretations on such outside breast imaging to expedite the care of patients referred to Loyola for treatment or second opinion.
EDUCATIONAL ACTIVITIES
Our breast imaging specialists instruct diagnostic radiology residents in the performance and interpretation of screening and diagnostic mammography, breast ultrasound and breast MR imaging as well as in the performance of stereotactic and other image-guided procedures on a daily basis. Medical students are also involved in breast imaging, whether rotating through Breast Imaging for the day or spending a full month elective in Breast Imaging and benefiting from observing the multidisciplinary approach applied to the diagnosis and treatment of patients with benign or malignant disorders of the breast. In addition, our breast imaging specialists serve as mentors to both medical students and residents and are available in that capacity as often as needed. Fully one-third of our diagnostic radiology residents each year apply to and are accepted by leading breast imaging fellowship programs in the United States and have gone on to practice breast imaging, whether in academic or private practice settings.
RESEARCH ACTIVITIES
Besides clinical responsibilities, LUHS Breast Imaging is involved in several research activities, including the ACRIN I-SPY 2 clinical trial (LINK) investigating Magnetic Resonance Imaging (MRI) markers for measuring response to targeted treatment of locally advanced breast cancer with neoadjuvant chemotherapy. Our breast imaging radiologists also supervise ongoing breast imaging-related research performed by our diagnostic radiology residents and several serve as reviewers for research articles submitted for publication in premiere radiology journals, including the American Journal of Radiology.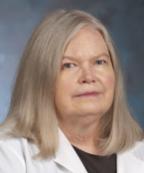 Kathleen A. Ward M.D. , FACR
Associate Professor
Medical Director, Breast Imaging
Medical Director, Women's Health Imaging
Specialties
Breast MRI
Ultrasound
Mammography