Musculoskeletal
Musculoskeletal (MSK) Imaging at Loyola University Medical Center is a high-end imaging service provided by a team of five board-certified radiologists dedicated to the institutional missions of clinical care, education and scholarship. Taking advantage of the gamut of imaging modalities, this core group of imagers employs a multidisciplinary approach to provide specialized care for a broad spectrum of diseases as well as health maintenance. This group is actively engaged in the education of Diagnostic Radiology residents in addition to several clinical teams. Scholarship and lifelong learning are integral to division activities and responsibilities.
CLINICAL SERVICES
Radiographs are a mainstay of imaging, with both inpatient and outpatient imaging consolidated into a picture archival system (PACS) within minutes of acquisition for immediate review by clinical and imaging teams. This facilitates communication and consultation by all teams to assure prompt, accurate diagnosis and care. An extension of radiography, dynamic imaging with fluoroscopy facilitates interventional procedures including biopsy and joint injection.
In addition to radiography, the MSK imagers at Loyola use CT and MRI for evaluation of traumatic injuries and post-operative management. With seven helical CT scanners, specialized protocols are developed to accommodate both inpatients and outpatients. CT is also utilized for guidance during interventional procedures including fine needle aspiration, core biopsy and complex interventional/therapeutic joint injections. Specialized protocols have been developed to provide precise imaging for each patient in the MRI imaging arena. With two 3-Tesla units, five 1.5-Tesla units and one 0.7-Tesla unit, patients can be accommodated without delay. Large bore diameter and short bore length machines enhance the MRI experience. Additionally, an open system and a 1.5-Tesla dedicated extremity unit (unique in the Chicago suburbs), allow an extra level of comfort (and typically eliminate the need for medication management of claustrophobia) without sacrifice to diagnostic quality. These powerful tools provide opportunities to visualize and understand complex diagnoses including internal joint derangement, soft tissue and ligamentous injury, early infection, and tumors of bone and soft tissue.
Ultrasound is commonly used for static and dynamic interrogation of MSK soft tissue parts. Leading-edge imaging units provide excellent anatomic resolution for evaluation of subtle internal architecture. Ultrasound is also an optimum visualization tool for imaging guided procedures, including fine-needle aspiration and core biopsies, especially for tumor of soft tissue parts. In addition, emerging interventional options are available, including tendon fenestration and platelet-rich plasma (PRP) injections for advanced tendinopathy.
EDUCATION
The MSK division is dedicated to the education of our younger colleagues including Diagnostic Radiology residents, Nuclear Medicine residents, and medical students of the Stritch School of Medicine. Diagnostic Radiology residents have core rotations through the MSK division in the first and second years of training, with the option of completing an MSK mini-fellowship in the fourth year of training. Residents participate in interventional procedures including joint injections (diagnostic and therapeutic) and bone/soft tissue biopsies and aspirations. Medical Students complete an observatory rotation through the MSK division on the General Radiology Elective.
RESEARCH
The MSK division is also committed to the pursuit of higher knowledge through academics and scholarship. The team participates in lectures throughout the LUMC campus, disseminating knowledge to our clinical counterparts, such as the Orthopedics Grand Rounds and lectures at the PMR resident lecture series. In addition, the faculty is actively involved in scientific investigation with several electronic exhibits and publications. A close relationship with the Department of Orthopedics and the Division of Rheumatology promote clinically relevant scientific investigation.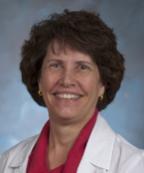 Laurie Lomasney, M.D.
Professor
Medical Director, Musculoskeletal Imaging
Radiology


Orthopaedic Surgery