Giving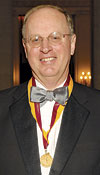 Providing state of the art urologic care, educating and mentoring future urologists, directing research programs and integrating new knowledge in the care of patients, conducting clinical trials - Loyola's Department of Urology has merited national and international recognition for its superlative programs and commitment to education, research and urologic health care services. Under the leadership of Dr. Robert C. Flanigan, the department has flourished.
Our continued success relies upon the philanthropic partners who are dedicated to the continued growth and development of the Department of Urology. The past generosity of our friends has facilitated many advances in patient care, research and medical education.
Recently, a campaign was mounted by grateful former patients and former residents to honor recent Stritch Medalist, Dr Flanigan, through the establishment of the Robert C. Flanigan Endowment / Professorship in Urologic Cancer. When the fund reaches $1,000,000, the interest will go toward cutting edge urologic cancer research; when $2,000,000 in gifts are received, a professorship will be endowed in Dr Flanigan's name. A new professorship will allow the department to reward and retain a fine physician or it will enable us to recruit a physician/researcher.
Your donation will directly impact our ability to help others face serious medical challenges every day with new-found hope. For more information on making a gift please contact Development, (708) 216-3201.