Spanish Language and Culture Education: Weekly Language Classes
Classes are divided based on Spanish language abilities: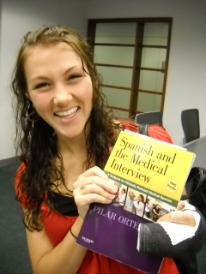 Beginner: Essential phrases, basic terminology & relevant questions
Intermediate: Taking a full patient history & conversation skills
Advanced: Patient history, physical exam, & conversation
Advanced-high: PCM 2 topics & advanced clinical scenarios
Curriculum is student designed, initiated and driven:
Curriculum is developed by peer teachers based on continuous student feedback
Content parallels M1/M2 curriculum depending on language level
Teachers are in charge of including a cultural competency learning point in every lesson plan.
Peer-led model: M1/M2 students with advanced speaking ability may apply to become teachers for fellow classmates.
Teaching Elective: Chosen student teachers additionally may choose to undertake their teaching as part of a larger course working towards elective credit. Student teachers are not required to undertake the teaching elective course. Typically 15-20 student teachers are involved in the program each year. Program includes:
4 didactic courses on teaching theory
Approximately 2-4 hrs/week spent teaching, coordinating, and developing lesson plans for their weekly classes
Requires 20 hours of teaching over a 2 year period
Submitted designed lesson plan & curricula for each class taught (a minimum of 20 over 2 years)
Receiving formal feedback from students and fellow teachers
Giving formal feedback to fellow teachers
Monitor School of Medicine Faculty teaching M1-M4 students in a classroom or clinical setting, and provide analysis of methods used
Classes take place for one hour once per week. Schedule is determined by specific course instructor. Please contact us if interested in enrolling in a class.
Additional components of each class include:
Mock Standardized Patient exam in Spanish with real SP's
Opportunity for Interpreter shadowing at LUHS
Program: M2s are given the opportunity to have Spanish Speaking Preceptors that work in Chicago with mostly Spanish speaking patients. They spend time throughout the year shadowing these Preceptors and completing H&Ps with their evaluation and assistance