Stritch recognizes Jr. and Sr. Scientists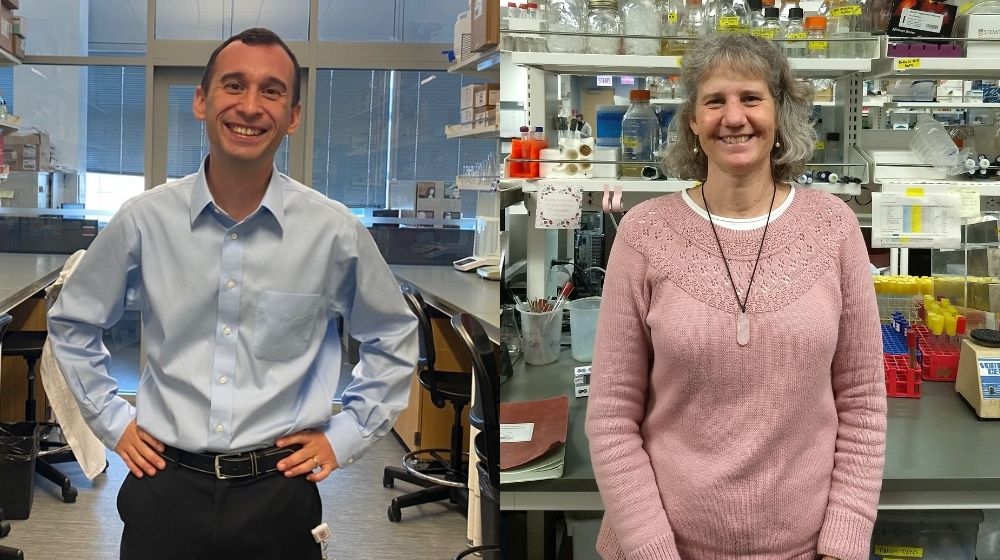 November 15, 2021
Hitting the ground running—at the height of the pandemic
If you want to know what it's like to open a research lab at the height of a pandemic, just ask Rocco Gogliotti, PhD.
An Assistant Professor in the Stritch School of Medicine's Molecular Pharmacology and Neuroscience Department, Gogliotti set up his lab – remotely -- in March, 2020 when he joined Loyola University Chicago.
"It's hard to open a lab when you cannot get inside of it," said Gogliotti. Yet he did everything he possibly could do remotely: applied for grants, hired two lab technicians (Research Assistants Calista Holt and Jakub Cikowski), and built out the lab.
Three months later, he entered his newly built lab. Met with news of an RO1 grant as well as continued funding from a K01 career development award, the Gogliotti lab actually was off to a good start. Gogliotti continued developing his team with the addition of Sonia Gonzalez and Mackenzie Smith, two graduate students he recruited.
"At the time, the delay seemed like a really big deal," said Gogliotti. "But we worked really hard to hit the ground running and build everything as fast as we could."
Listening to Gogliotti's approach, it's clear that the Ignatian value of "service to others" is a key foundation and driver of his work. "If the department is doing well, if the community is doing well, we're all doing well," he said. A case in point: his neurobehavioral lab is a resource for colleagues at both Loyola and the Edward Hines Jr. Veterans Administration Hospital, where he and his team try to eliminate access to phenotyping equipment and expertise as a research barrier.
Another case in point: Gogliotti's research focus is pediatric diseases of the nervous system, where there are fewer researchers than for diseases like cancer or heart disease. "I thought I could make an impact on this research and I became more invested when I got involved with families and met children with these disorders," said Gogliotti. "There's also something about seeing a sick child that is intolerable – it affects you at a core level," he said.
Given Gogliotti's determination, expertise, and service to others, it's no surprise that Stritch recognized him with its 2021 Junior Scientist award at the annual St. Albert's Day celebration in early November.
During his presentation, Gogliotti reviewed important moments in his research career, including his first opportunity to work in a lab (at Pfizer, where he worked while he earned his undergraduate degree and realized he enjoyed the challenge of research), in the DiDonato Lab at Northwestern University (his first experience in academia that confirmed his interest in higher education), and as a postdoctoral fellow in the Warren Center for Neuroscience Drug Discovery at Vanderbilt University, where he learned a new approach to drug discovery and the steps required to build a research program.
"At the end of the day, it boils down to people and trust," said Gogliotti. "You need good mentors, a network of support, and impart that to others."
Micro research yields macro rewards
"The discovery process and sharing it with students and colleagues is so rewarding," said Karen Visick, PhD, professor, Department of Microbiology and Immunology, Stritch School of Medicine.
Since joining Loyola University Chicago in 1998, Visick has focused her career studying the function of tiny, living organisms and how they interact with animals. Specifically, she studies how biofilms, super sticky layers of bacteria that adhere to a surface, are formed within a squid. While the organism Visick studies does not infect humans, it is relevant to human health because of its relationship to human pathogens that undergo some of the same processes. Biofilms can cause problems in nature and disease. An example of a human biofilm is dental plaque; in nature, biofilms can be found in everything from inside pipes to park streams.
For this research and for her commitment to mentoring the next generation of scientists, Visick received the 2021 Stritch School of Medicine Senior Scientist Award at the School's St. Albert's Day event in early November.
As she reflects on her years at Loyola and specifically within her department, Visick said: "Our department is a fantastic place to do science. Everyone from our Chair (Katherine Knight), to colleagues, students, and members of my lab, are wonderfully supportive."
How did Visick narrow her research focus on such a small organism? "It was a gradual development of interests," said Visick. She entered college thinking she would study engineering; her Dad was an engineer and her instructors said she was good at math and science. But she soon realized that engineering was not her strong suit so she pursued general sciences in college, where she found her way to a microbiology class.
"When I began working in the microbiology lab," Visick said, "I just loved it. I explored the unknown and ran experiments. It was really fun to come to the lab every day," she said. Visick was hooked. She pursued a PhD at the University of Washington, then undertook post-doctoral training first at the University of Southern California and then at the University of Hawaii.
Twenty-three years after starting her academic career, Visick still enters the lab with that same sense of wonder and excitement of those early days.