66th Stritch awards dinner raises money for medical student scholarships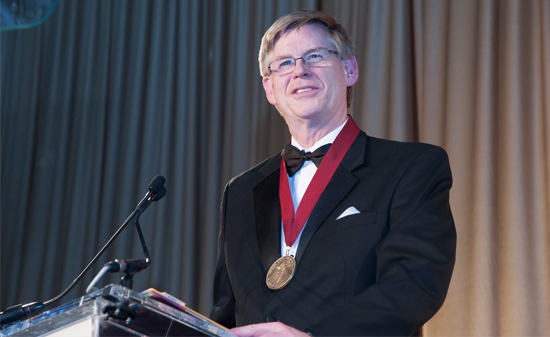 The Loyola University Chicago Stritch School of Medicine 66th Annual Awards Dinner took place on November 19 at the Hilton in downtown Chicago. More than 700 people attended the event, which celebrated Stritch's commitment to educating the next generation of physicians.
The dinner is the longest-running black tie gala in Chicago and continues to raise hundreds of thousands of dollars for medical student scholarships.
"Stritch Dinner supports the training of Stritch medical students – our future physicians," said Linda Brubaker, MD, MS, dean and chief diversity officer, Stritch School of Medicine. "Most medical students graduate with significant financial debt. This debt load impacts their career choices. It makes it especially difficult to help those whose medical needs would otherwise be overlooked."
This year's Stritch Medal was given to Patrick Stiff, MD, director of Loyola Medicine's Cardinal Bernardin Cancer Center. The medal recognizes the accomplishments of a Loyola graduate or faculty member who exhibits dedication to research, education, and patient care. The medal was first presented in 1960 at the Annual Awards Dinner. Dr. Stiff has been at Loyola since 1986 and is currently the Coleman Professor of Oncology at Stritch, co-director of Loyola's Oncology Research Institute, and division director of Hematology/Oncology. Throughout his tenure, Dr. Stiff has developed groundbreaking new treatments for leukemia and lymphoma and has built one of the largest and most successful bone marrow transplant programs in the world.
"At Loyola, we provide outstanding care that also calms and comforts, envelopes and empathizes, supports and sustains, is gracious and good-hearted, respectful and reassuring and especially is spiritual and sustaining," said Dr. Stiff.
The first annual AMDG Award was given to Rev. Jack O'Callaghan, S.J., who joined Stritch in 1995. This honor is bestowed upon someone whose life and work is unmistakably "For the greater glory of God," the motto of the Society of Jesuits. Father Jack assists with spiritual direction, celebrates Mass at Stritch, and collaborates with Health Sciences Division University Ministry on a number of projects. Before coming to Loyola, he held Jesuit administrative posts in Chicago, Washington DC, and Rome.
"Gratitude is what I feel – for my family and friends, for the Society of Jesus which has been my second family for 67 years now, for Loyola… and of course most of all for God, who has overseen everything all these years," said Rev. O'Callaghan.
The night also honored 14 young adults who are members of the Stritch Junior Service League. These high school students contributed hundreds of volunteer hours to various social service agencies during their summer break. The event was chaired by Mrs. Donna Hammond and Mr. Rick Hammond.
"To sum up, it is my firm belief that Loyola couples the science and humanism of health care like no other," said Dr. Stiff.
View photos from the event:
Watch videos from the event: