Alaska rotation taught alum Rosa Aramburo the challenges of rural healthcare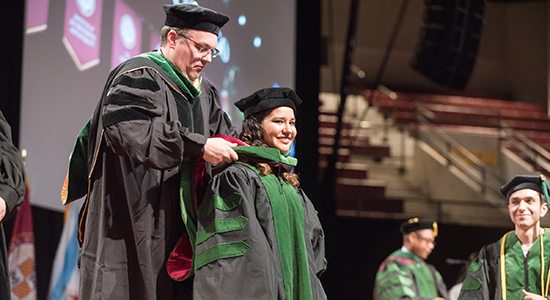 By Maura Sullivan Hill
Rosa Aramburo (MD '18) sat in a medevac plane, soaring over the Alaskan wilderness. The plane shook and rattled as the pilot navigated through a developing blizzard.
Aramburo, then a fourth year medical student, was on a rural away rotation at Norton Sound Regional Hospital in Nome, Alaska. Aramburo was en route to one of the 15 remote tribal villages outside of Nome, where a patient was showing signs of a heart attack.
The villages are only accessible by plane in the winter months, so many patients with heart disease or other chronic conditions end up moving to Nome to be closer to the hospital to prepare for these kinds of situations. The building storm and poor visibility meant they couldn't land, so the plane—carrying Aramburo, two flight nurses, and the pilot—turned back. By the time the storm passed, the patient, fortunately, had recovered and no longer needed to come to the hospital.
"It was this shaky little plane, and it was kind of scary," Aramburo said. "It showed me how, even though Alaska is still part of the U.S. and has all these resources, they still can't get the help they need sometimes. Some of the villages don't have running water."
Dr. Paul Gloe, one of the family medicine physicians at the hospital in Nome, worked with Aramburo during the rotation. He said she leapt out of her chair with enthusiasm when he asked if she would be willing to go on the medevac flight. "She entered all encounters with an open mind, was able to adjust to limited resources, and had an exceptionally positive attitude," he said.
Aramburo spent a month in Nome as the field experience portion of her participation in Stritch's Global Health Honors Program. With a population just under 4,000 people, Nome was quite the contrast to her rotations at Loyola University Medical Center. She rotated through the primary care clinic, hospital inpatient service, obstetrics and gynecology, and the emergency department, and also spent three days in one of the remote villages.
"It was a rural area, so I faced some challenges and saw the care that is given in an isolated place," Aramburo said. "It was kind of like a third world country, but with first-world resources, which made it interesting. That's what enticed me to go there."
Limited access to drinking water was a major challenge in the villages. "People either had to harvest it from the rain or melt blocks of ice," Aramburo said. "Some people bought water at the store, but there wasn't much available. The two stores in the village only had soda and juices, which probably explains why I saw so many cases of diabetes in the clinic."
Aramburo had the opportunity to participate in this rural rotation thanks to Dr. Shana Theobald (MD '10), who organized the whole experience, from pairing Aramburo with preceptors to finding housing for her in Nome. Dr. Theobald previously practiced family medicine at Norton Sound Regional Hospital and recently moved to Hawaii to continue practicing.
"This definitely goes to show me that the type of physicians that Stritch trains are the ones that are going to go on and help communities, and I want to work in an underserved community when I graduate," Aramburo said. "A lot of the physicians out there in Alaska had the same mindset. They wanted to help people that needed it the most, and they really need it out there."
She's helping with the placement of another fourth-year medical student to rotate in Nome next year. "I want other people to have the experience I did," she said.
Aramburo is part of the first cohort of DACA-status students to graduate from Stritch, and is currently a surgery resident at Loyola University Medical Center. She says she is most looking forward to transitioning from the more passive student role to being a stronger advocate for her patients.
"As a medical student, there is only so much you can do, but as a resident, I'll be able to take charge of my patients and contribute to the team," she said.