Answering the Call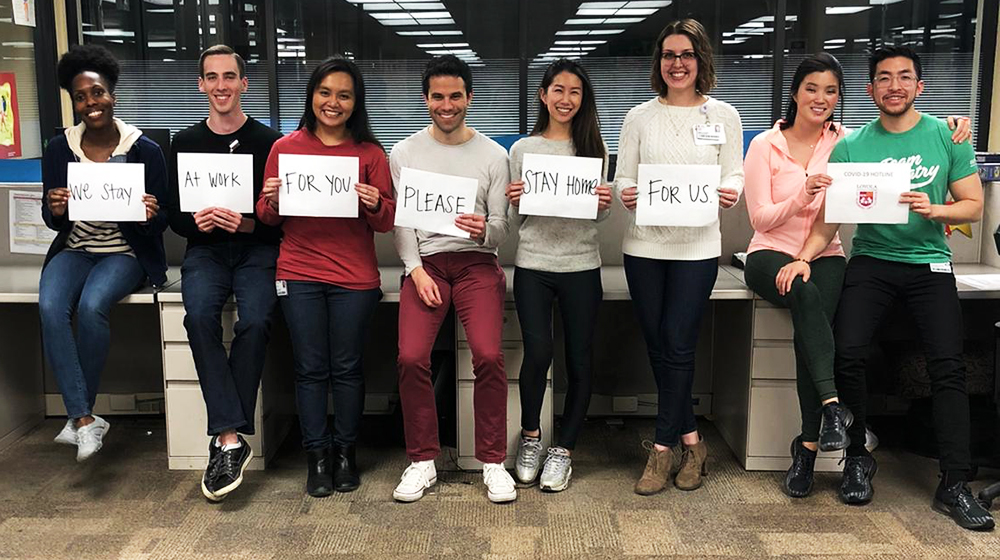 Medical students volunteer to staff hospital's coronavirus hotline
With health care workers on the frontlines of the coronavirus (COVID-19) pandemic, Stritch School of Medicine students are heeding a new call to support the Loyola University Health System in an unexpected way.
The same day that M3 Eda Akyar was notified that her clinical experience for clerkship would be suspended, another email caught her attention about a volunteer opportunity at the hospital's patient call center.
"The call center was getting bombarded by concerned community members asking about COVID-19," says Akyar. "When I volunteered Monday night, it was apparent to me that we needed more help."
With the permission of faculty and assistance from fellow students, Akyar reached out to classmates to volunteer. By the following night, she was helping train six students to field calls. And by Wednesday, groups of 10 students were manning the phones and responding to community questions in rotating, seven-hour shifts.
---
"At first, we were just screening calls to determine if the caller or their family member should be tested, but eventually, we became a catch-all for any questions regarding COVID-19," says M4 Richie Green. "The breadth of knowledge I gained from this experience was incredible."
---
Akyar reports approximately 65 Stritch students, including Green, volunteered to help the hotline, answering anywhere from 350 to 400 calls each day. "I'm so proud of everyone's efforts and commitment to helping fill this need," she says.
In addition to her Stritch education, Akyar received her master's of public health in epidemiology of microbial diseases from Yale in 2014, giving her a unique perspective on the global health crisis. "I never believed I would see a pandemic like this in my lifetime," says Akyar. "Ironically, I was supposed to spend the entire month of April in China, so I took an even greater interest when this began to all unfold."
After filling a vital need for two weeks, students have started to step back from volunteering as nurses begin to staff the hotline. The experience has left a lasting impression, though, for Akyar, Green, and others
"We're not providing direct medical care, but by actively listening to a patient, validating their concerns, and offering reassurance, we have impacted their medical care and, in turn, reduced the toll on the health system," says Green. Throughout the experience, students have put into practice the patient-centered lessons they've learned at Stritch and demonstrated a commitment to the health care profession.
Stay up to date with Loyola Medicine coronavirus updates and communications from Loyola University Chicago.