Celebrating humanity, resilience, and diversity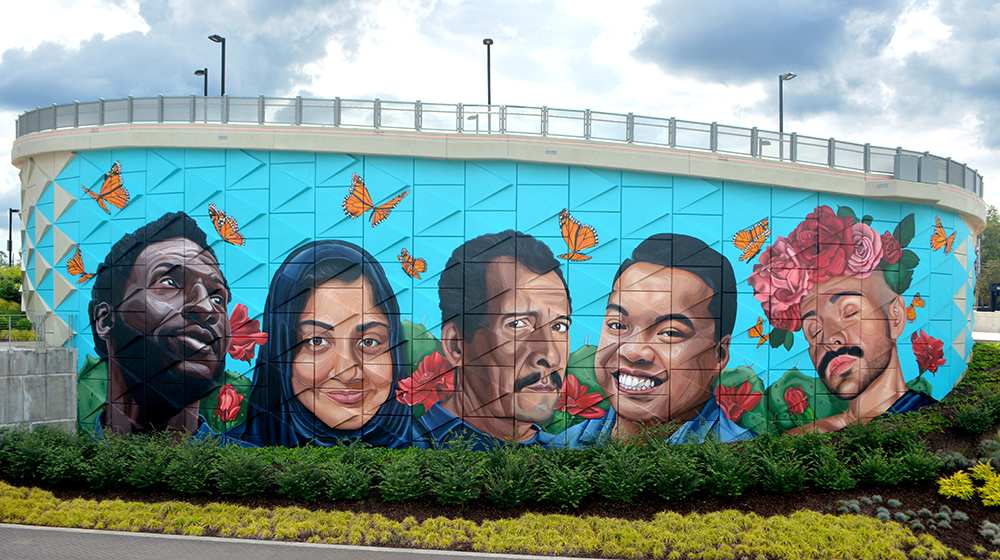 Painted monarch butterflies hover across the bright turquoise background of a new mural at the Mercedes-Benz Stadium grounds in Atlanta, Georgia. Featured in the mural are the faces of five prominent figures in Atlanta's immigrant community, including one that may be familiar to Loyola University Chicago's Health Sciences community: Sumbul Siddiqui, an MD/MPH student at the Stritch School of Medicine and the Parkinson School of Health Sciences and Public Health
Born in Saudi Arabia, Siddiqui (second from the left) has called Atlanta home since she was four years old. Since 2017, she has been active in efforts to support Deferred Action for Childhood Arrivals (DACA), speaking at numerous rallies and sharing her personal experiences as an undocumented immigrant. "I knew I could no longer be the quiet, timid girl who kept to herself and hoped for the best," says Siddiqui. "I knew I must also speak up for my undocumented, immigrant community."
Siddiqui's advocacy and passion has inspired many, including artist Yehimi Cambron. Cambron painted the mural to celebrate the humanity, resilience, and diversity of Atlanta's immigrant community. The finished mural features five individuals, who, according to the artist, "reflect the community's grit and determination to thrive despite the limitations of immigrant status."An undocumented immigrant herself, Cambron understands first-hand the constant fear of being forced from her home and community in Atlanta. Below is a description of the mural's symbolism:
The Monarch butterflies surrounding each portrait have long been used as a symbol of migration by immigration activists around the world. Monarch butterflies find sanctuary in Michoacán, México, the artist's birthplace, and migrate to Canada, crossing borders, with each generation becoming more resilient.
Solid turquoise makes up the landscape. The color symbolizes the mineral element that the Aztecs valued like gold.
The cactus plants in this landscape allude to the artist and her family's migration through the desert and her Mexican heritage. The people are placed between the cacti, protected and embraced by the plants that not only survive, but vibrantly thrive in extreme environments.