Stritch students advocate for DACA program to Congress in Washington D.C.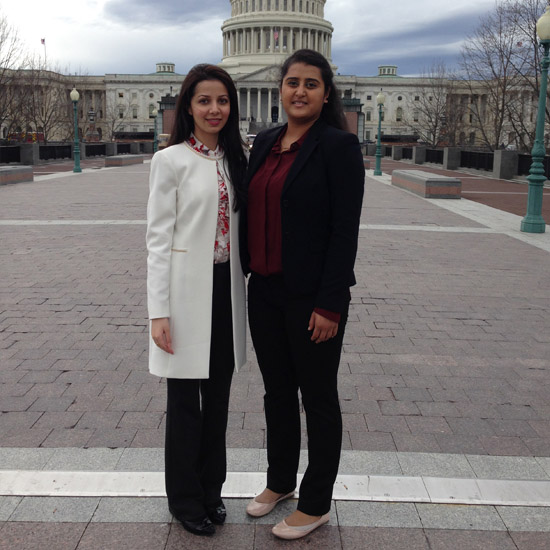 By Erinn Connor
Growing up, second-year Stritch School of Medicine student Zarna Patel learned to "stay quiet." On a recent trip to Washington D.C., however, Patel, who has Deferred Action for Childhood Arrivals (DACA) status, felt like this was the perfect opportunity to speak up for herself and the thousands of others with DACA status across the country.
Patel and fellow medical student Aaima Sayed went to Washington D.C. as guests of Representative Mike Quigley and Senator Dick Durbin for President Donald Trump's Joint Address to Congress on February 28. Patel and Sayed were representing the DACA program and the 728,000 DACA recipients around the country who are fearful President Trump could rescind former President Barack Obama's executive order, which gives undocumented immigrants who entered the United States as minors protective status to work and study in the U.S.
"Before the election, I had not done any advocacy," Patel said. "I was still coming into my own as an undocumented person—something that was never talked about, something I was in denial about for a long time, something that had caused me so much pain and hopelessness in the past. Being at Stritch, surrounded by amazing and inspiring DACA classmates really taught me to embrace that part of me and use it for the better. I realized that whether I stay quiet or speak out, the risk will always be there. So why not speak, advocate, and bring light to this issue?"
Patel and Sayed were accompanied by Philip Hale, Loyola's Vice President for Government Affairs. Together, they visited with members of Congress before and after the Joint Session. They shared the personal struggles they experienced before DACA, their studies at Stritch, and their anxiousness over the new administration and their future as physicians.
"DACA protects hundreds of thousands of people in the United States, people who love this country and consider it their home," Sayed said. "If DACA was not in place, many people would suffer and endure great hardship. Because DACA has been in place for several years, recipients have come to rely on their employment eligibility in order to build a future for themselves and provide for their families."
The students also spoke with members of Congress about their support for the Bar Removal of Individuals who Dream and Grow our Economy (BRIDGE) Act, sponsored by Durbin and Senator Lindsey Graham. The BRIDGE Act would provide a status similar to DACA. A person would still have to meet important criteria, including having been brought to the United States as a minor and having no felony conviction or significant misdemeanor. It is still not a pathway to citizenship.
The Stritch School of Medicine was the first medical school in the national to change its admissions policy to make DACA students eligible for admission in 2012. Currently, Stritch has 28 DACA students, most of whom are committed to working in an underserved community following their residency.
"The Stritch community has been incredibly supportive as always," Sayed said. "They truly care about the student body and it shows when they reach out to us during times of difficulty. I'm immensely lucky to be a part of the community."
Both Patel and Sayed felt like they were writing history by going to Washington and advocating for themselves and other DACA recipients.
"Walking the halls where so many of our nation's great legislators and leaders spent their days made me feel so incredibly privileged," Patel said. "It made me feel like I belonged—and that hopefully we were in the midst of leaving our stories embedded in these walls, that one day the issues we were fighting for would just be another paragraph in a history book, something we no longer need to be fighting for."
Added Sayed: "Many people often don't realize the extent of a law's or decision's impact on individual lives. If my story can bring more awareness to this issue, then I wanted to do my part and help in any way I can. To me, the fact that the executive order has not been revoked yet and President Trump has not spoken against individuals with DACA makes me feel positive and hopeful for our future."