Former Loyola Resident Douglas E. Anderson to be Awarded Stritch Medal; the School's Highest Honor
Surgeon. Sailor. Singer.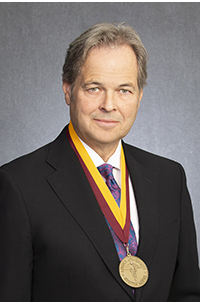 The Stritch School of Medicine has selected Douglas E. Anderson, MD, as the Douglas Anderson is the embodiment of a "Renaissance man."  A world-renowned neurosurgeon, an avid sailor, and a talented opera singer, Anderson added another accomplishment to his distinguished career in 2019: Stritch Medalist.  
"I am honored and humbled to receive this award," says Anderson, who was recognized at the Stritch Dinner last November. "I have been fortunate to have a career—or more broadly a calling—that I love, and I am grateful to leadership at Loyola University Chicago and to my fellow Stritch faculty members for this award, to Loyola Medicine, and of course to the Stritch students, residents, and to my patients who have enriched my work."   
The Stritch Medal recognizes outstanding accomplishments of a Loyola graduate or faculty member who is dedicated to research, education, and patient care. Since joining the faculty in 1983, Anderson has trained generations of neurosurgeons. Today, he chairs Stritch's Department of Neurosurgery and continues to manage a multidisciplinary team that performs more than 1,500 cranial and spinal surgeries each year. One of his most notable achievements at Loyola was pioneering the practice of deep brain stimulation, which can quell or eliminate tremors in patients with Parkinson's and other brain disorders.    
---
"I have been fortunate to have a career–or more broadly a calling–that I love."
---
"Dr. Anderson exemplifies Loyola's commitment to 'be a person for others' and has distinguished himself through his significant and meaningful contributions to educate the physicians of tomorrow, as well as to scholarship and research at Stritch," says interim Dean Sam Marzo, chair of Loyola's Department of Otolaryngology. 
Prior to his medical training, Anderson attended college on scholarship, where he became an all-American gymnast. While he trained for a career in opera, Anderson discovered a passion for medicine and chose to pursue a surgical career, while continuing to hone his musical talent. Anderson continues to share his love of music at Grace Lutheran Church in River Forest and beyond. He also loves sailing and cross- country ski mountaineering.