Starting M1 with a Bachelor of Science in Exercise Science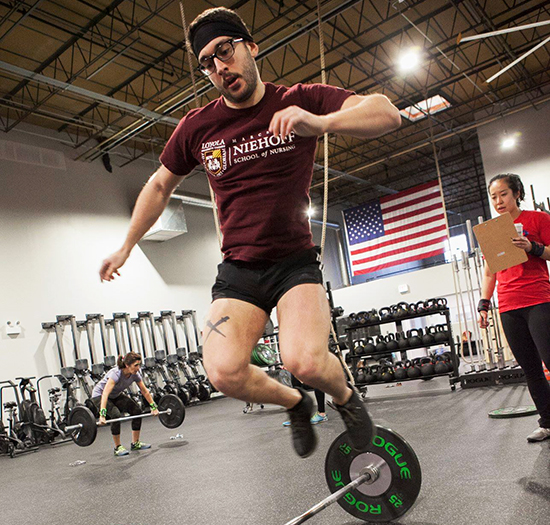 Greg Grigoropoulos always knew he wanted to pursue a career in medicine. But exactly how he would pursue it and what shape it would take was unclear until he enrolled as an undergraduate at Loyola University Chicago.
In August, 2019, he will join the Stritch School of Medicine Class of 2023.
His interest in exercise started in high school when Greg wanted to join his school's football team. "No way," said his parents. "When I suggested cross-country, I knew it would be harder for them to say no again," says Greg.
On the cross-country team, Greg developed a strong relationship with exercise and with the team's charismatic coach, Dan Horyn, who became an icon to his athletes.
"Coach's lessons did not stop at running," Greg says. "He taught us morals, the importance of fighting the good fight and he made us all better people."
Coach Horyn died at 34, his life cut short by esophageal cancer. After his death, exercise became profound for Greg as he recognized it not only as a form of medicine and meditation, but as a lifestyle. Exercise became a "life-philosophy based on the appreciation of health and of constant betterment."
"As a Loyola undergrad, I defaulted to Biology," says Greg. Sophomore year, he realized Exercise Science, a "human-centered" science, was an option.
College brought Greg closer to both medicine and exercise. Throughout his undergraduate experience, he looked for leadership roles in organizations like PhiDE, the pre-med fraternity, and became a certified personal trainer working at Loyola's Halas recreation center. Outside of Loyola, part-time jobs throughout college exposed him to different aspects of medicine ranging from clinical research coordinating to working as a rehabilitation aide.
After graduating with a Bachelor of Science in Exercise Science, Greg took a gap year to complete the MCAT, apply to medical school, and work as a personal trainer. Through personal training, he discovered and became "obsessed" with the sport of CrossFit and has subsequently received his Level 1 CrossFit Trainer certificate to coach through medical school. "CrossFit is my way of practicing what I preach," says Greg, "and I intend to do both as long as I can."
For him, becoming a physician would be the ultimate way to promote health, well-being, and longevity. Greg knew he wanted a school that "radiated good culture and a nurturing environment" and he was partial to Loyola. Stritch's "treating the whole person" philosophy resonated with him; the school's bioethics honors track solidified his interest in Stritch.
As Greg begins his medical education, he is looking ahead to how he will incorporate his background and love of exercise as a physician.
"I hope to pursue a career in Physical Medicine and Rehabilitation and potentially a fellowship in Sports Medicine or Spinal Cord Injury," he says. And to honor Coach Horyn's memory, Greg intends to assistant coach high school cross country at least "super part-time."