Vivian Gahtan, MD, Named Chair of Loyola's Department of Surgery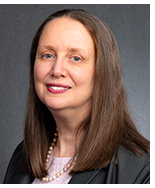 Nationally-known vascular surgeon Vivian Gahtan, MD, was named Professor and Chair, Department of Surgery, Stritch School of Medicine and Loyola University Medical Center, in August 2019. Dr. Gahtan joins Loyola from SUNY Upstate Medical University (Syracuse, NY), where she was a Professor and Vice Chair for Academic Development, Department of Surgery. She also was Medical Director, Vascular Surgery, at University Hospital in Syracuse. Prior to those appointments, Dr. Gahtan was an Associate Professor of Surgery at Yale University School of Medicine.
Why are you excited to join the Stritch faculty and Loyola Medicine?
The more I learned during my interview process about vision, the administrative structure, and how the medical school is fulfilling its strategic plan, the more excited I grew about the prospect of becoming the Chair of the Department of Surgery and joining the Stritch faculty. My new role gives me a tremendous opportunity to contribute to and learn from my peers. I am excited to work with the amazing people here. I strongly believe that the department of surgery has greater capacity to deliver outstanding excellence and be recognized as a real powerhouse by growing and strengthening clinical care, education, and research. In addition, I am looking forward to contributing to the institution through collaboration, building and supporting multidisciplinary programs in the three realms of clinical care, education, and research.
How do you anticipate engaging with Stritch students and alumni?
In my previous position, I maintained a close working relationship with all the medical students interested in vascular surgery and many of the general surgery students. I am looking forward to expanding my role and mentoring a larger group of students with an interest in surgery. I anticipate working directly with students in different facets of medicine including patient care, didactics, and research.
I've been thinking about how the Department of Surgery can strengthen, grow, and deepen relationships with our alumni. In my first month, I plan to meet with the Stritch Alumni Relations and Advancement team to discuss how we can increase alumni engagement.
You are the first woman to become the Chair of the Department of Surgery. What's the significance of that to you – personally and professionally?
Being the first woman in a role does create some challenges, both at times of success as well as areas of unease. I have had the experience of being a "first" woman in my roles as President of the Eastern Vascular Society and Chair of the Vascular Surgery Board of the American Board of Surgery. While these leadership roles have had their challenges, without question, they are distinct honors in my career. It takes time for people to get to know any new leader. My plan is to meet with every faculty member, as well as residents and advanced practitioners in the department of surgery. I also will reach out and work with leaders across the health sciences campus to support initiatives and foster positive change. Over time, I hope colleagues, students, and patients see me as a surgeon who is committed, intellectual, fair, caring, and transparent. The female aspect should fade into the background as we build a strong department and contribute to the missions of Stritch and the clinical enterprise.
What do you hope to accomplish in your First 100 Days?
As the new chair, I intend to become a recognized leader within the clinical enterprise and the medical school, as well as leading the Department. While I have a global understanding of the Department and the institution, in my first several months I will focus on understanding and appreciating the culture and the array of relationships, alignments, responsibilities, resource strengths, and needs. I intend to work with members of the department to develop a unified philosophy, vision, and strategic plan and then begin to work together to thoughtfully institute change. I also will work with the individual divisions to help each determine how best to maximize growth in their unique areas. In parallel, I will work with the institution to best align the department's initiatives with the strategic needs of Stritch and Loyola Medicine. It is important for a new leader to be thoughtful and create positive strategic change where needed to build the most successful department possible.
What words of advice would you share with Stritch students who are considering a surgery residency?
Being a surgeon is a challenging, rewarding, and fulfilling profession. Surgery is a technologically driven field that's constantly changing. I really have enjoyed my career with many different opportunities to grow with changes in technology and standards of care in vascular surgery, my research program, educating the next generation, developing programs, and administrative oversight.
While surgery is not for everyone, my goal is for every student to gain an appreciation for surgery over the course of their rotations and through shadowing. With these experiences, students will get a sense of their interest in surgery. There also can be many misconceptions among students about what it takes to get into a surgical residency, so I recommend students tell Department faculty about their intentions early so we can counsel them during the application process. The Department is here to support students, residents, and faculty and care for our patients.