Homeboy Industries Inspires New Community Effort in Maywood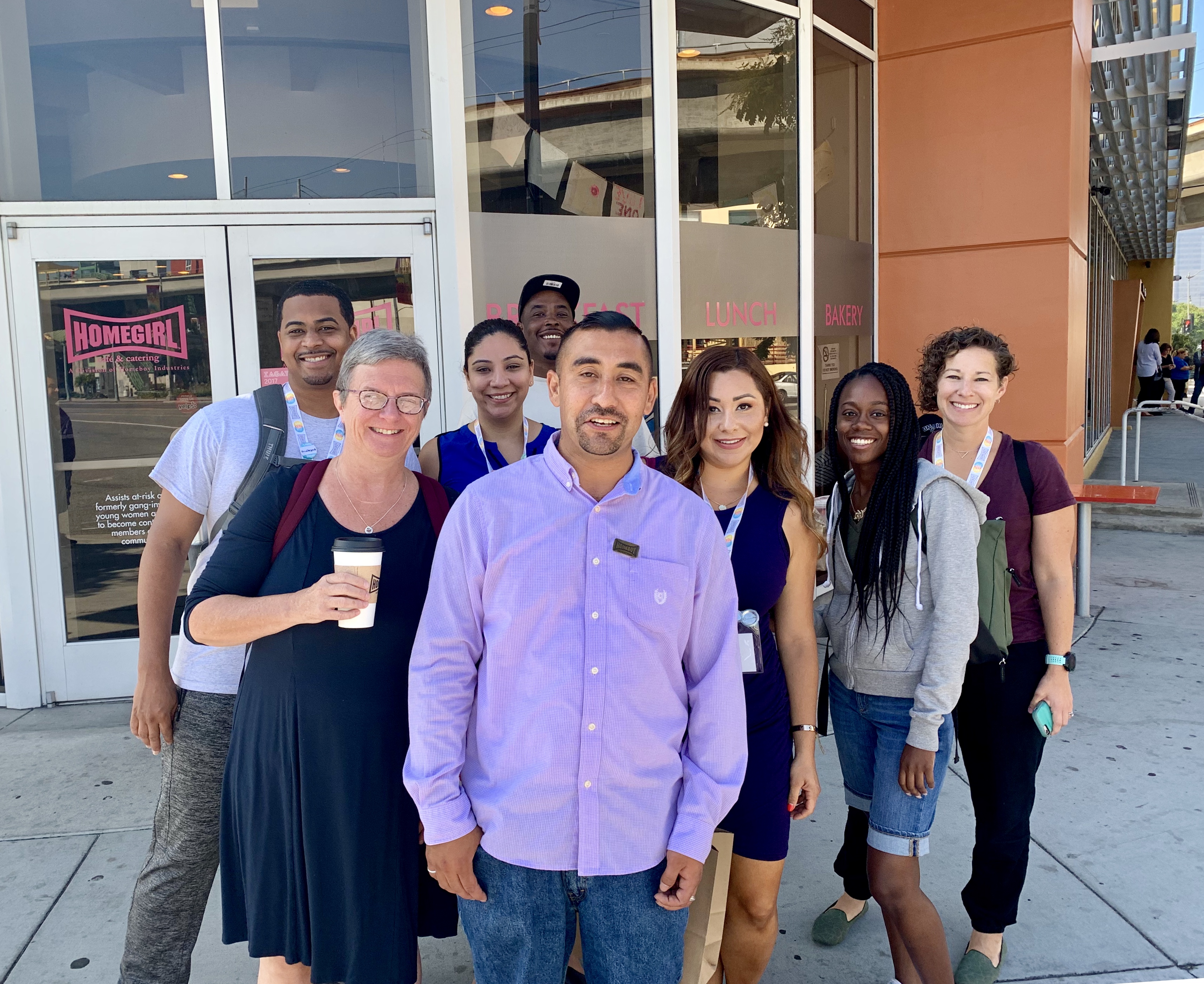 "What is the role of an academic medical center in a community?" asked Ginny McCarthy, MDiv., director of University Ministry, Health Sciences Campus.
In August 2019, McCarthy and Amy Luke, PhD, Professor of Public Health Sciences in Parkinson, led a group of 10 people from the Loyola and Maywood communities to Los Angeles to answer that question at the Global Homeboy Network training at Homeboy Industries.
Father Greg Boyle, SJ, founded Homeboy Industries three decades ago, to help improve the lives of former gang members in East Los Angeles. Since 1988, Homeboy Industries has not only grown to help thousands of people each year, but it has also inspired a network of organizations across the country to find innovative ways of providing hope and training to previously incarcerated men and women.
In April, Lucia Garcia, Assistant Director of Education of the Center for Community and Global Health, invited Boyle to share his work and mission at Loyola's Health Sciences Campus, inspiring McCarthy and Luke to put together a group of university and community leaders and explore how a similar program might work in Maywood.
"One of the things I took away from the Global Homeboy gathering was this sense of community and understanding that the absence of community means the absence of support and options," McCarthy said.
It's a trend she believes is reflected in Maywood, with its shortage of grocery stores, accessible transportation, and employment resources.
"We know that lack of economic opportunity contributes to violence and increases the likelihood someone could be involved in violent injury," said McCarthy. After a recent string of violence in Maywood, including a double murder in July, the group is only more certain of the need to change the community dynamic.
"We've been trying to understand how we can interface better with community organizations, support people who have experienced injuries from firearms, and understand the social determinants of health that lead to these injuries," she said.
One of the ideas under consideration is for Loyola, with the help of community partners, to establish a "social enterprise," such as a café, bakery, or t-shirt screening business that would provide training, mentorship, and employment opportunities for people with criminal backgrounds.
"By introducing some sort of social enterprise, we could improve options for not just the people working and learning, but in theory, it could provide some life on 5th Avenue," said Luke. The 5th Avenue area, with dozens of empty storefronts and businesses, has been a frequently discussed corridor for redevelopment.
And that isn't the only idea on the table. "Immediately, I thought of better usage of our Maywood Public Library," said Maywood Village Board Trustee Nathaniel Booker, who participated in the Global Homeboy Network training. "As you know, our unemployment rate for men under the age of 30 is dangerously high. I envision a café on the lower level, an upgraded youth section and adult section with more community engagement opportunities."
While stakeholders are working to define the future of the new Homeboy-inspired strategy, Luke and McCarthy are hopeful that in five years, Maywood will begin to see changes for the better.
"Now, we need to roll out some of the lessons we learned to the community," said Luke. "Trying to figure out how to gather broader community support will be the next step along with getting the broad strokes of what we're interested in doing as a group," she said.
Contact Amy Luke or Ginny McCarthy to learn more.