Dr. Kayhan Parsi Named Graduate Faculty Member of the Year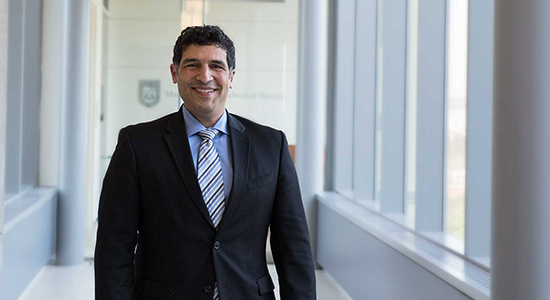 By Maura Sullivan Hill
Ask Kayhan Parsi, JD, PhD, to reflect on the proudest moment of his career working in bioethics and he won't cite his own publications or accolades—he'll tell you about the success of his students.
"When I go to conferences and see our students present their work, I get very proud of the fact that they are doing well," he said. "Our graduate program in bioethics is not an ivory tower kind of experience. They are putting all of this knowledge and training to real work, with real issues, cases, and problems that they're facing as clinicians or clinical ethicists, so I feel very proud that they're really taking all this and putting it to good use."
It's a fitting answer for an educator who was chosen as the 2018 Graduate Faculty Member of the Year in the Stritch School of Medicine for his dedicated mentorship.
"Dr. Parsi was recognized for the support he provides to graduate students and colleagues, including extensive individualized mentoring, guidance, and encouraging students to present their research at national conferences," said Mitchell F. Denning, PhD, professor of pathology and chair of the Council of Graduate School Programs, which presents the award.
Parsi is the director of the online Graduate Program in Bioethics at Loyola's Neiswanger Institute for Bioethics, where he teaches bioethics and health policy. He is the first faculty member of the Neiswanger Institute to receive this honor and recognized the "supportive, harmonious work environment" among his colleagues as instrumental to his own success.
"Receiving this award is a true honor. It reflects my goal—as a graduate program director, as a teacher, as a scholar, as someone who's mentored a number of students over the years—to play a role in developing a graduate program in bioethics that has meant something to our students," Dr. Parsi said.
Parsi came to Loyola in 2002 to help launch the online master's and doctoral degrees in bioethics, which enable working professionals to earn advanced ethics degrees without leaving their jobs. Courses are offered online during the fall and spring semesters, and then the students attend a few days of classes on campus at Stritch over the summer. Parsi says the program draws students from a variety of backgrounds: physicians, nurses, social workers, chaplains, lawyers, dentists, psychologists, and other health professionals.
The online format of the class is not a barrier to forming relationships, in large part because of the effort that Parsi puts in to help each student feel connected.
"It is amazing how you create this kind of intimate learning environment. You might think that online learning would be a very lonely experience, because you are just looking at your computer, but I integrate a lot of live video conferencing so students can see me, talk, and have a real-time conversation," he said. "It is pretty remarkable how close-knit our students become through this experience."
Pam Payne, a current student in the doctoral program in bioethics and a nurse practitioner in California, said, "Despite the online format, I feel that I have a relationship with him as my instructor just as I would in a class on campus."
Loyola's fully online format for master's and doctoral degrees is unique in the bioethics world, and the University was forward-thinking in developing the program in the early 2000s.
"If you look at the trends of education, the traditional 18-22-year-old student population is shrinking, so we have to realize that there is a much broader pool of potential applicants who want to continue their education," he said. "Most students get into bioethics because they've read some books or articles, or they may have served on an ethics committee. But many want the structure of a more formal degree program or certificate program without having to leave their jobs, and they want the mentoring of people that are experts in the field and they want to be part of the community. I think it reflects our mission as a Jesuit institution and it serves these students' needs very well."
Parsi comes from a medical family—his father is a physician and his mother a nurse—but it was in law school that he discovered his interest in bioethics. He took a course in law and bioethics during his third year and said it was his "impetus in moving into this field." He switched gears and went on to earn a PhD in Medical Humanities at the University of Texas Medical Branch at Galveston and worked at the Institute for Ethics at the American Medical Association before coming to Loyola.
"Kayhan is a warm and engaging educator," said Kerri Kennedy (MA '14), a clinical ethicist at Boston Children's Hospital. "He has a wonderful ability to create safe learning environments where students of varied cultural, intellectual, and experiential backgrounds can learn alongside and from each other. This award is tremendously well-deserved."