Loyola establishes new division of Hepatology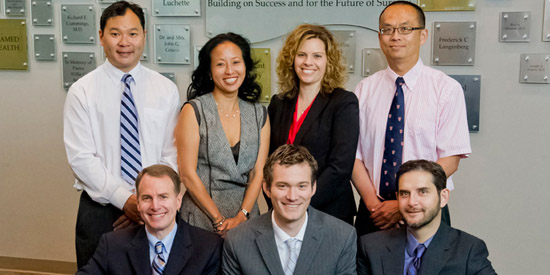 Loyola University Health System and the Stritch School of Medicine are expanding hepatology services with the addition of five physicians and three researchers. They will become part of the newly established Division of Hepatology, focused on the care of patients with liver disease, liver transplantation and liver research.
Scott Cotler, MD, has been named division director of Hepatology of LUHS and professor, SSOM. Dr. Cotler was recruited from the University of Illinois (UIC) Hospital and Health Science System where he was chief of the Section of Hepatology. He joined Loyola Aug. 1.
"Through Dr. Cotler's leadership, Loyola's new hepatology division will be a game-changer in the treatment of liver disease and the care of liver patients not just at Loyola but throughout the region," said Larry Goldberg, president and CEO, LUHS.
Also coming from the UIC medical center are physicians Jamie Berkes, MD, medical director, Liver Transplant; Eric Kallwitz, MD; and Natasha Walzer, MD. Joining the Loyola hepatology team from the University of Michigan Health System is Steve Scaglione, MD.
Thomas Layden, MD, will be named professor of medicine, SSOM, and will be responsible for conducting clinical research trials in hepatology, gastrointestinal and infectious diseases. Dr. Layden was recruited from the UIC medical center where he served as head of the Department of Medicine and preceded Dr. Cotler as the director of the liver program.
"Dr. Layden's reputation as a clinician and researcher is well-established in the Chicago area and beyond. We are pleased that he will bring his leadership and experience to our hepatology research team," Goldberg said.
Susan Uprichard, PhD, has been named director of hepatology research at Loyola. She and Harel Dahari, PhD, will conduct research focusing on viral hepatitis B and C infection. Both were at UIC medical center and joined Loyola Sept. 1.
"When Trinity Health acquired Loyola University Health System in July 2011, a key goal was to strengthen Loyola's national presence as a standard bearer in advanced specialty care," said Dr. David W. Hecht, chair, Department of Medicine at Loyola University Chicago, Stritch School of Medicine. "Our decision to add these highly regarded hepatologists and preeminent researchers to our team will elevate Loyola's competitive standing and allow our patients to receive comprehensive liver-care services from some of the most talented physicians in the region.