Loyola medical student awarded Tropical Medicine Fellowship for research in China
By Jim Ritter
Loyola University Chicago Stritch School of Medicine student Tiange "Philip" Zhang is among 21 medical students nationwide who have received a highly competitive travel fellowship from the American Society of Tropical Medicine and Hygiene (ASTMH).
The society's Benjamin H. Kean Travel Fellowship in Tropical Medicine is the only medical student award in the United States dedicated to nurturing a career path for physician-scientists in tropical medicine. Fellows receive airfare and up to $1,000 in living expenses for a clinical training or research project in an area where tropical diseases are endemic.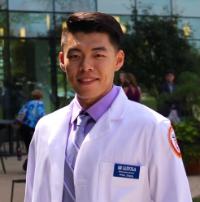 Zhang, a second year medical student from St. Louis, conducted an eight-week research project on improving testing services for sexually transmitted infections among gay men in Guangzhou, China. Chinese gay men face a high disease burden as well as barriers to care.
"We found that community engagement, such as awareness or involvement in sexual health campaigns, may be particularly useful for promoting testing among this key population," Zhang said. "This experience allowed me to gain insights into how public health approaches can be utilized to better understand and address the needs of populations affected by infectious diseases."
After medical school, Zhang plans to pursue a specialty that will allow him to combine research and clinical care to alleviate the burden of diseases in marginalized communities.
The fellowship is named in honor of Benjamin H. Kean, MD (1912-1993), an internationally known tropical medicine expert and mentor to many world-renowned tropical medicine experts. Dr. Kean also is credited with discovering the causes of several diseases, including turista (travelers' diarrhea).
ASTMH is the largest international scientific organization of experts dedicated to reducing the worldwide burden of tropical infectious diseases and improving global health.