Meet Steve A. N. Goldstein, the new Dean of Stritch School of Medicine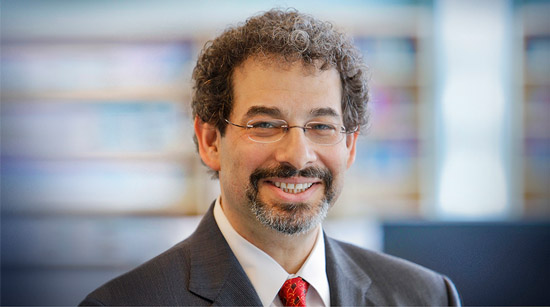 Steve A. N. Goldstein, MD, PhD, started his tenure as dean of the Stritch School of Medicine this May. He brings to the job more than 30 years of extensive experience in health sciences research, medical education, and higher education administration, which includes serving at Harvard, Yale, The University of Chicago, and Brandeis.
While at The University of Chicago from 2004 to 2011, Goldstein was a professor in many areas including pediatrics, cancer center, molecular medicine, neurobiology, and pharmacology and pharmacogenomics. A cardiologist and an investigator, he was also director of the Pediatrician-Scientist Training Program, chair of the Department of Pediatrics, founding director of the Institute of Molecular Pediatric Science, and founding physician-in-chief of the Comer Children's Hospital.
Shortly after he got to campus, we spoke to Goldstein about his research, his own favorite medical school experience, and more.
On why he was drawn to Stritch
The more time I spent with Stritch faculty, students, and staff, the more clarity I had that the fit was perfect. I believe we can only achieve excellence as educators, clinicians, and pioneers at the scientific frontiers by working together as we care for each other. I've never seen a place more capable of improving the world and committed to kindness than Stritch. I could not be more enthusiastic about becoming a member of this community.
In these first few months I will do a lot of listening so I can understand our strengths and learn where our opportunities lie. We know that because of our size, we need to be focused—where should we lead and where should we contribute? We know that biomedical progress is astonishing and the pace will not slow—how do we help our students master what we know today as well as keep up as alumni? How do we care for our trainees and faculty so they have the stamina to take care of our communities and the world—when burnout has become a major challenge?
On his family
My wife is a writer, and we are so proud of how our three children move through the world, continuing to care about others as each found their own voice. My oldest is an artist who explores myth and folklore in light and song; my second is an MD/PhD student now finishing his thesis work in health sciences; the youngest is a doctoral student in comparative political economy seeking to understand how societies nurture and restrain the individual.
On his research
We work to illuminate basic rules of biology; first at the level of the genes and protein, and then increasing the complexity to cells, organs, and bodies. By starting at the molecular level, we have been able to ask how things work and then, looking across the terrain of disease, to explore the basis for health and disease. Sometimes we start with yeast cells or fruit flies, so we can end up with clarity about the cause, diagnosis, and advance treatments for human disease.
My research passion is a super family of proteins called ion channels that control excitable membranes and, thus, every heartbeat and each of our thoughts. Early on, we focused on discovering ion channel genes and asking how the encoded ion channels operate; now we emphasize how they cause disorders of the heart and brain, such as, sudden infant death syndrome, cardiac arrhythmia, periodic paralysis, and stroke.
On his own med school experience
One highlight was my rotation in pediatric surgery. The energy and joy of the clinical fellows was infectious. I was exhausted but the camaraderie kept me from noticing. Perhaps best was the thrill of removing an appendix, which was clearly about to burst, from a beautiful 3-year-old boy who opened his eyes and smiled at me in recovery, just before dawn.
Read the announcement about Goldstein's appointment here.