Parkinson Students Compete in National Undergraduate Case Competition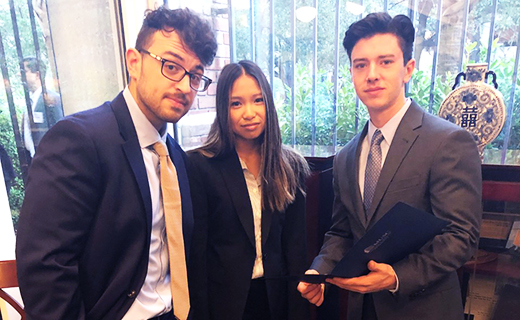 A team of three Parkinson students, led by faculty coach John Brady, DHA, FACHE, assistant professor, Healthcare Administration, placed second out of 15 teams at the Inaugural Undergraduate Case Competition for Health Administration Programs at the Medical University of South Carolina College (MUSC) on October 17 and 18.
The competition required teams to present recommendations for a shared cost model in the expansion and delivery of telestroke services delivered by the MUSC health system across South Carolina. Other competing teams included the University of Alabama at Birmingham, Winthrop University, The Pennsylvania State University, Central Michigan University, and Auburn University.
Judges scored teams on overall performance, as well as creativity, feasibility of the proposal, clarity of presentation, and ability to answer questions from the judges.
Congratulations to Jeff Shnoebelen, Kimberly Truong, and Randy Botvinnik on the recognition and for proudly representing Loyola.