PhD students explore advocacy careers at DC conference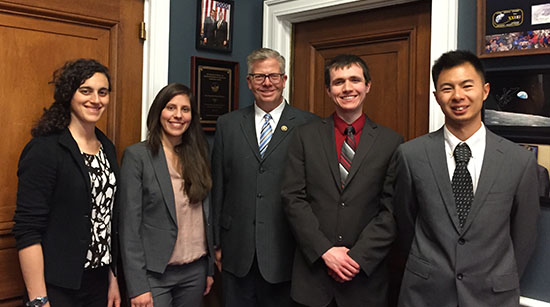 By Maura Sullivan Hill
For four days in April, David Ford and Lourdes Plaza-Rojas took off their white coats, discarded their safety glasses, and left their labs to attend a conference about science advocacy in Washington, DC.
Both Ford and Plaza-Rojas, students in the Biochemistry and Molecular Biology PhD program, are passionate about using their scientific expertise to educate audiences outside of higher education.
"Dave and Lourdes have an interest in spreading science beyond the laboratory," said Leanne Cribbs, PhD, associate dean for graduate education at the Loyola University Chicago Stritch School of Medicine. "They are looking to take science into schools to attract students to the STEM (science, technology, engineering, and math) field, and they have an outreach and communication interest."
These factors made Ford and Plaza-Rojas the ideal choice to represent the biomedical sciences program at the Catalyzing Advocacy in Science and Engineering program, sponsored by the American Association for the Advancement of Science.
This program introduced them to the advocacy field, and in particular, the role of science in policy-making on Capitol Hill. Over the course of three-and-a-half days, they learned about the structure and organization of Congress, the federal budget and appropriations process, and tools for effective science communication and civic engagement, as well as participated in interactive seminars about policy-making and communication.
Both students are completing their fourth year of studies and expect to finish their dissertations in spring 2018, so they are thinking about next steps and career plans.
"Normally, we are very insulated in the lab and our job is to take care of research, and other people decide what to do with it," said Ford, whose research focuses on how gene mutation contributes to cancer and other diseases using Drosophila, the fruit fly, as a genetic model organism. "But there is so much in between what we do and what actually happens [in government], so it was really nice to get that perspective. It opened up policy as a legitimate career path, and there are opportunities at every level of government."
Plaza-Rojas, who came to study at Loyola from Venezuela, is working on a project to improve cancer immunotherapy, a treatment that uses a patient's own immune system to fight cancer, by genetically modifying white blood cells to recognize and eliminate tumors.
As an international student, she was grateful for the opportunity to participate in the program and learn more about U.S. policy, and also recognized the important role that her involvement could play.
"In the case of science, the [knowledge of the] international community is important," she said. "I am a student at an American university and it [U.S. governmental policies] directly affects me. I can have a voice and advocate for science."
Outside of advocacy, medical industry jobs and science writing are other options that Loyola graduates pursue. "We encourage our students to consider broad career options outside of the traditional laboratory academic path," Cribbs says.
As for Ford and Plaza-Rojas, they will share what they learned in DC with their fellow PhD students at a presentation during the fall semester, and are also working on a program that will give Loyola students teaching opportunities at libraries and schools in their local community.
To learn more about Loyola's biomedical graduate programs, visit LUC.edu/stritch/graduate_school.