Stritch DACA Student Jaquelin Solis Solis Receives National Scholarship
By Taylor Utzig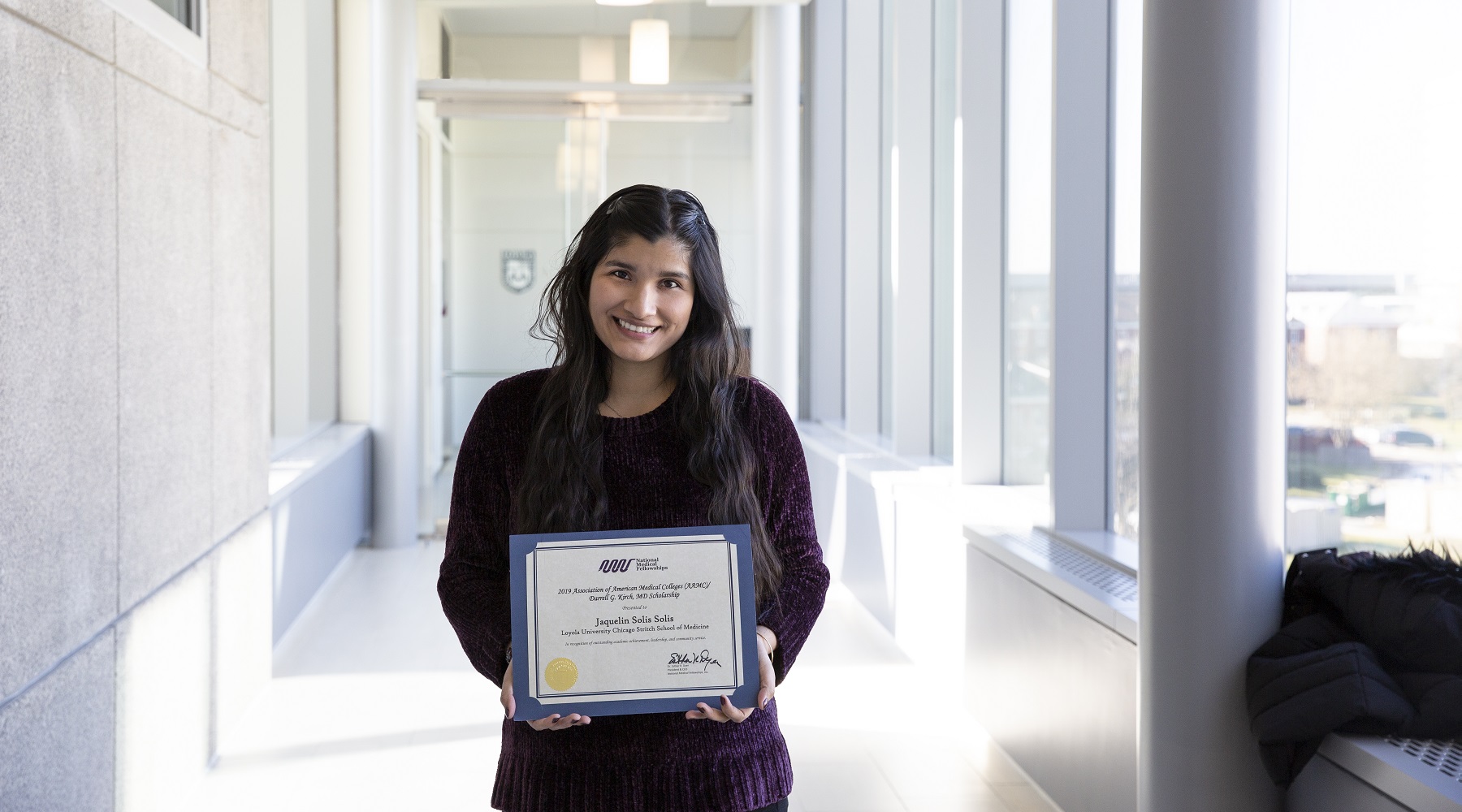 Hours before the deadline to apply for the inaugural Kirch Scholarship, Jaquelin Solis Solis sat at her computer, debating whether to hit 'submit.'
"I told my mom, 'Mami, I can't do this.' She said, 'Jacky, you're going to sit at that computer and you're going to do it,'" said Solis.
A DACA (Deferred Action Against Childhood Arrivals) student, Solis knew she was an ideal candidate for the Darrell G. Kirch Scholarship, which recognizes under-represented minority students demonstrating leadership and community service.
Solis came to the United States from Peru when she was 10 years old. Her experiences with health care in both countries have played a large part in her fascination with medicine.
"In Peru, we were two hours away from the nearest hospital," said Solis. "Even when we went, we had to wait hours before we could see a physician, which we couldn't even afford to do most times," she recalled.
Around age 7, Solis experienced first-hand the effects of delayed medical treatment, when she was hospitalized for three months for a severe stomach virus.
"My mom still says, 'I don't know how you're alive, Jacky,'" said Solis.
When Solis and her family settled down in northern Georgia, she again experienced a lack of access to health care, this time because of her immigration status.
"It really fueled my drive to become a physician and do something for my community, especially undocumented immigrants," she said.
Now, in her first year at Loyola University Chicago's Stritch School of Medicine, Solis is fulfilling that goal. But, like many DACA students, she still faces the uncertainty of finances. Or at least she did, until she applied for the Kirch Scholarship, and won.
While selected as one of only eight students across the country to receive the coveted scholarship, Solis admits she wasn't planning to apply.
"I didn't feel competitive."
It wasn't until that push from her mom that Solis mustered the courage to submit her application.
Solis accepted the award in November 2019 from the Association of American Medical Colleges and National Medical Fellowships in Phoenix, Arizona, accompanied by several Stritch faculty and mentors.
"It feels like all my efforts and work is being validated and seen by the medical community," said Solis. "It's also lessening my worries of paying for school."
Solis plans to pursue a career in Primary Care with the goal of opening a mobile clinic, where people without documentation can access care at low or no cost.
"I want to provide the care that I wish I had when I was younger," said Solis. "The care I wish my family had."
Learn more about Loyola University Chicago and the Stritch School of Medicine's commitment to supporting DACA students.