Jason Reinking (MD '11) wins Service in Medicine Award for work with Oakland homeless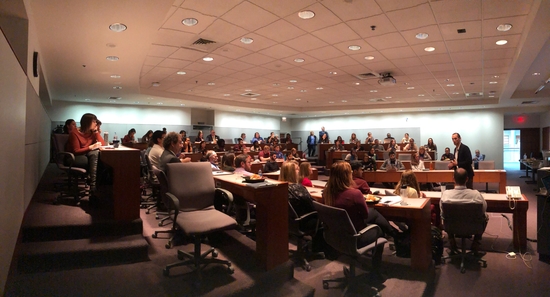 By Erinn Connor
During his time at the Stritch School of Medicine, Jason Reinking, MD '11, invested much of his time in seeing how medicine worked abroad—from Egypt to Malawi. While still early in his medical career he wanted to learn, "how the haves influence the have nots."
Now six years after graduation, Dr. Reinking is still learning that lesson, but now within the United States, along the highways of Oakland, Calif.
Dr. Reinking was the winner of this year's Jack MacCarthy Service in Medicine Award for his work with Roots Community Health Center Alameda County Health Care for the Homeless. The award is given to a person who demonstrates the embodiment of medicine as an act of faithful service.
He first started caring for the homeless through a Schweitzer Fellowship, where he was able to develop a program that helped people who had recently been discharged from Interfaith House (now The Boulevard), which helps homeless people who are recovering from hospital stays. The program coordinated follow-up medical visits and health education for people while they were still staying with Interfaith House.
Now his work is what's known as street medicine—bringing healthcare to people who are living and sleeping on the streets through walking teams, medical vans, and mobile clinics. In Oakland alone, the homeless population is estimated at 3,000 to 4,000 people. Annually, there are about two to three million homeless people in the United States.
"I think one of the most misunderstood thing about homelessness is that, studies show, it's almost always not the result of bad choices, but of bad circumstances," said Dr. Reinking, speaking to a group of Stritch students and faculty.
He explained that homeless people have many barriers when it comes to getting adequate health care, including no insurance, lack of transportation, poor health education, lack of flexible scheduling, shame, and more.
Without access to health care, homeless individuals are dying primarily from complications of chronic diseases left unmanaged and untreated, such as diabetes, high blood pressure, heart disease, and more. And like many non-homeless Americans, they are also falling victim to drug overdoses.
For Dr. Reinking and the other health care workers at Roots Community Health Center, their main goal is to provide care for pressing health issues. But they also try to connect people with primary care practices and advocate for people to be placed in housing.
"Illness causes and maintains homelessness," said Dr. Reinking. "What we do to help people is mostly by gaining their trust. Whether that's starting off with a conversation about the Raiders, or reliably showing up at the same time every week, whatever it takes."
The Roots Community Health Center was a finalist for this year's Opus Prize, a humanitarian award given by Regis University. The $100,000 award recognizes those working to solve some of the world's most pressing problems.
"We want to care for people first, not necessarily cure them, like what's written on the wall out in the atrium [I was ill and you cared for me]," said Dr. Reinking. "That always stuck with me, and still does in what I'm doing every day out in Oakland.
To nominate someone for the Jack MacCarthy Service in Medicine Award, fill out the nomination form here.