Drs. Eva Bading and Amy Blair receive Jack MacCarthy Service Award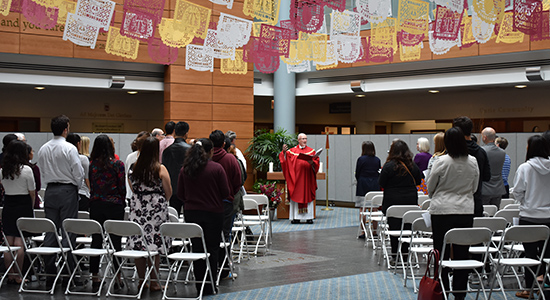 By Erinn Connor
Being able to travel abroad and have an effect on the health and communities of those in need is often a defining part of a Stritch student's time in Maywood. Students venture to Bolivia, Guatemala, Mexico, China, South Dakota, and other places around the country and the world to understand other cultures and how they can best help those in need.
These opportunities are largely made possible by the efforts of Drs. Eva Bading and Amy Blair, this year's recipients of the Jack MacCarthy Service in Medicine Award. Both physicians played in an integral role in the creation of the Center for Community and Global Health (CCGH). It has helped medical students live out the Loyola mission of service to and for others.
"I hear from so many students who say 'Dr. Bading and Dr. Blair make it look so easy, and that's the kind of physician I want to be," said Ginny McCarthy, director of University Ministry at the Health Sciences Campus.
Dr. Bading, who came to Loyola in 1998, helped shape the vision of the CCGH, and Dr. Blair helped to found it in 2008 and is still the director of the center. Both physicians have also created other local and global opportunities for students.
The Bading House in Maywood gives a handful of Stritch students the opportunity to live in and integrate into the local community, just as Dr. Bading did. She served as the Chair of the Department of Family Medicine from 2001 to 2016 and as the director of the Patient-Centered Medicine Course for third-year medical students.
"When I came to Loyola I thought, 'Finally I've found my dream medical school," said Dr. Bading. "I love the mission of Loyola, and most of all the people here."
Dr. Blair is a Stritch alum who returned to Loyola in 2006 and is a physician in the family medicine department. In addition to creating the CCGH, she also started the Community and Global Health Honors program. In 2011, she started the Bolivia Fellowship, which allows two students to spend a year in Bolivia at a village clinic.
"In global health, there's always work to do," said Dr. Blair. "It was one of the pinnacles of my career to work with Dr. MacCarthy and contribute to what he is doing to serve others."
Father Jack MacCarthy is a Norbertine priest and physician who dedicated his life to serving the poor in a remote area of the Peruvian Amazon. The Service in Medicine Award was named after him for being an embodiment of medicine as an act of faithful service.
To nominate someone for the Jack MacCarthy Service in Medicine Award, fill out the nomination form here.