Stritch Annual Awards Dinner raises thousands for medical student scholarships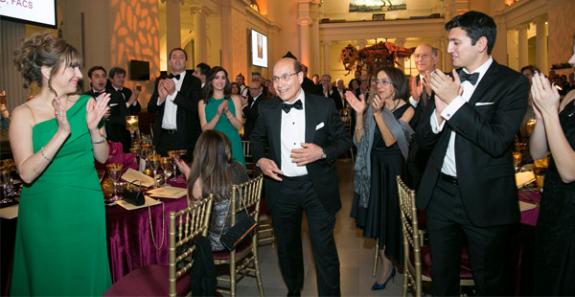 The Loyola University Chicago Stritch School of Medicine 65th Annual Awards Dinner took place on November 21 at the Field Museum in Chicago. More than 800 people attended the event, which celebrated the school's role in offering hope for a brighter tomorrow through its education of medical students and commitment to healing those most in need. The event was led by co-chairs Judi Duchossois and Herta Cuneo.
The dinner continues to be a major fundraiser for the school and this year raised more than $900,000 in proceeds for medical student scholarships.
"Stritch medical students dedicate themselves to becoming outstanding doctors. Their clinical skills, academic excellence, and biomedical research are used to care for patients and reduce health disparities locally and globally," said Linda Brubaker, MD, MS, dean and chief diversity officer, Stritch School of Medicine. "With support from dinner attendees for the past 65 years, our graduates have spread across the world to serve the sick, with a dedicated and enduring focus on those underserved or affected by injustice."
A highlight of the evening was the conferring of the Stritch Medal to Mamdouh Bakhos, MD, FACS, professor and chair of the Department of Thoracic and Cardiovascular Surgery at Loyola. The medal recognizes the accomplishments of a Loyola graduate or faculty member who exhibits dedication to research, education, and patient care. The medal was first presented in 1960 at the Annual Awards Dinner. Dr. Bakhos has been a professor at Stritch for almost 40 years and has held the chair position since 1997. During this time, he has successfully led one of the largest thoracic and cardiovascular surgery departments in the nation, in terms of both volume and number of surgeons.
The night also honored 18 young adults who are members of the Stritch Junior Service League. These high school students contributed about 3,500 volunteer hours to four social service agencies during their summer break.
Click here to view photos from the event.