Stritch continues to welcome DACA students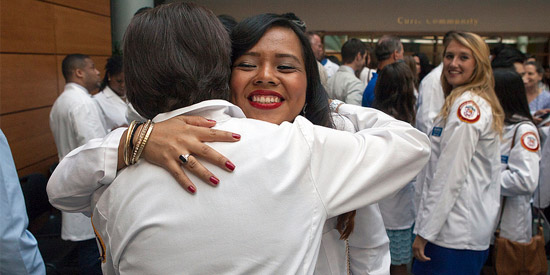 By Kelsey Cheng | Student reporter
A trip to the doctor's office can be a simple chore, but for people who are undocumented the seemingly simple visit can yield challenges, anxieties, and language barriers.
At a young age, Emelin Garcia Nieto, saw such things as a doctor's appointment causing distress within her community. Her keen eye for this injustice led her to volunteer as a translator with a local doctor. There she had an invaluable experience in the field of medicine, calling her to serve underserved communities.
Originally from Mexico, Nieto moved to the United States at only eight months old and later attended Columbia College in South Carolina. While an undergrad, she studied biology and Spanish with a chemistry minor. All in hopes of attending medical school one day.
Today, Nieto is one of 14 students with Deferred Action for Childhood Arrivals (DACA) status who began at the Stritch School of Medicine this year.
"I feel a strong connection to Loyola. The commitment to social justice and diversity ties into how Loyola fights for those who often don't have a voice, and I don't usually have people fighting for me," said Nieto. "Going to an institution that did that made me feel at home."
A dream come true
Last year, Stritch became well-known for being the first medical school that has changed their policy to ensure students with DACA status are eligible to apply.
Kuczewski, director of the Neiswanger Institute for Bioethics and Health Policy, was quick to point out that there were other medical schools that occasionally accepted "DREAMers" at other medical schools.
Kuczewski said, "They [DREAMers] fit into holes. They were considered international students at that. DACA status is its own status."
With the introduction of the DACA program in June 2012, a number of logistical hurdles were lifted for students with DACA status, but the financial burden still remains. Students with DACA status are not eligible for federally granted loans.
With the introduction of the Illinois DREAM act, a legislative plan for people who are undocumented to provide a path to residency for young undocumented people, the awareness surrounding this financial need has increased.
This year, fourteen students with DACA status joined the incoming medical class. Across all Loyola University Chicago schools, including the new Arrupe College of Loyola University Chicago, there are about 45 DACA status students who began their first-year this fall.
Class is in session
Medical school has always been her end goal, but getting there seemed to be the unanswered question. Less than a semester into her first-year at Stritch, Nieto feels unbelievably welcomed and accepted within the program.
On the first Friday of classes, Archbishop Cupich had a luncheon to congratulate the students on beginning medical school. Later that afternoon, Trinity Health and the Illinois Finance Authority, who both provide loans to the students, accompanied Senator Durbin at a reception where the students were able to meet and say thank you to all the groups that made the loans possible.
"I feel very grateful and thankful that they [Trinity Health] are investing in us," Nieto said. "And funding our education because without them it wouldn't be possible."
Nieto is not the only one to note the welcoming environment. Cesar Montelongo, first-year MD/PhD student, shared a similar sentiment regarding the unique community.
With the first exam approaching Montelongo said, "I appreciate all efforts Stritch has made to create personal relationships. There are other kinds of support outside the academic setting."
Kuczewski believes students often come to Stritch because they are kindred with the social justice mission. This 'social justice mission' is rooted in the many principles of Catholic social teaching which value the respect of human dignity.
While Nieto and Montelongo have different career aspirations, they share a similar intent—they both are looking to how they can contribute to communities at large.
"My wish is that our stories are known so younger students can see what can be accomplished," said Montelongo.