Stritch student's Safety PACS help empower survivors of stalking and domestic violence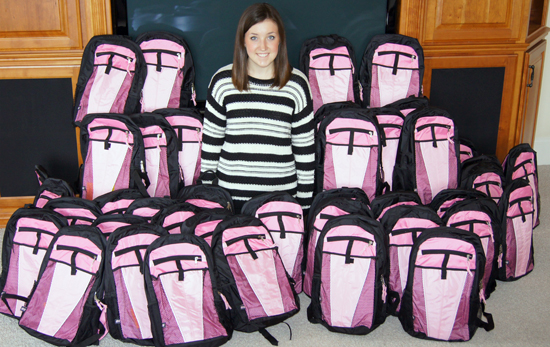 By Erinn Connor
Second-year medical student Maria Georgen chose the Stritch School of Medicine as her medical school because of its focus on service and social justice. But even before she stepped foot on the Stritch campus, she was carrying out Loyola's core values in her own community.
While she was in high school, Georgen's sister was stalked and their family home was burglarized. After a long court case and hearing about the difficulties another young survivor had in prosecuting her stalker, Georgen decided she had to do something. While at Xavier High School in Appleton, Wisconsin, she started collecting items that would help stalking survivors be able to better prove their case in court. Called Safety PACS (Preventing and Confronting Stalking), it's a backpack filled with things needed to get restraining orders and protect oneself from violence.
Georgen was awarded a $10,000 grant from the Verizon Foundation this fall for her work, along with 100 phones to be given to domestic violence survivors.
"I've been working on this project for a long time and am so grateful I'll be able to help more domestic violence victims and bring more awareness in general to stalking and its consequences," says Georgen.
The grant money will help Harbor House, a non-profit domestic abuse shelter in Appleton. She will be able to fully fund her Safety PACS project and include a phone, guidelines for proper documentation, the book "Why Does He Do That, Inside the Mind of Angry and Controlling Men" by L. Bancroft, a door stop alarm, a voice recorder disguised as a USB flash drive, a door jamming device, a personal alarm with flashlight, a calendar and journal, the steps and suggestions for making an individual safety plan, and an explanation of the state statutes for stalking.
These tools help survivors prove their case in court and give them the security of knowing their stalker will be prosecuted. Georgen has compiled Safety PACS six times since high school. In 2014, she received correspondence from the governor of Wisconsin and other state legislators, who told Georgen that her work influenced them to pass three laws designed to protect stalking and domestic violence survivors.
"It just goes to show that no gesture is too small and that caring for others and taking a stand against injustice can absolutely lead to social change," says Georgen.
Georgen has also donated some Safety PACS to Sarah's Inn, a shelter in Oak Park, near Loyola's Health Sciences Campus. She hopes to expand her project and help more domestic violence survivors in the area surrounding Stritch in the coming years.
"I hope this project can continue to grow and maybe even catch on nationwide," says Georgen. "My education at Stritch and how the school promotes social justice really encourages me to empower victims and help as many people as I can."