Students create coaching program with Access to Care Clinic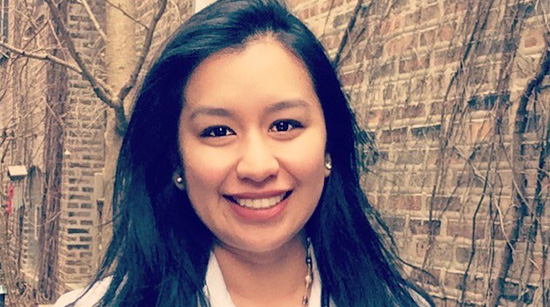 By Amanda Friedlander
For many patients on the Northwest Side of Chicago, receiving basic health care is a complicated and confusing process. That's what inspired Nelly Gonzalez Montes and Romina Sifuentes Palomino, both second-year medical students, to develop a sustainable, long-term health coaching program with the Access to Care Clinic. Gonzalez Montes was one of a select few students in the U.S. to receive the Albert Schweitzer Fellowship to support her efforts. Named in honor of humanitarian Dr. Albert Schweitzer, the fellowship program encourages students to design and implement a project that addresses an unmet community health need.
Gonzalez Montes' project aims to empower patients in local underserved communities— particularly Latino and African American communities—to take control of their own health. She connects medical students with patients and provides one-on-one health coaching in both Spanish and English to ensure the patients are able to be active in their own health care.
Gonzalez Montes and Sifuentes Palomino both started as interpreters. They realized that a language disconnect between patients and doctors was causing patients to feel like they didn't understand how to take control of their health.
"Oftentimes patients go to a clinic and they feel confused, and they leave still feeling confused," Gonzalez Montes says. "For me, it's about being able to motivate those patients. They should be open to asking specific questions and go home feeling like they understand what's going on with their health."
One patient in particular had been struggling with hypertension and was interested in learning to manage her diet. She had been nervous and concerned about an upcoming procedure. After meeting with Gonzalez Montes three times, she walked away feeling confident about her situation.
"That was the moment I realized I wanted to help people live healthier lives," Gonzalez Montes says. "I wanted to advocate for them and teach them to be their own self-advocate."
The project operates in several steps. First, Sifuentes Palomino and Gonzalez Montes assign patients to first-year medical students, who set up appointments to discuss the patients' needs and long-term goals. Next, the students follow up with their patients to see how they're reaching those goals, making sure they understand how to take their medication and making helpful suggestions like where patients should shop for healthy foods.
As part of her fellowship, Gonzalez Montes must commit at least 200 hours to her project on top of her school workload, but she feels it is worth the effort to empower patients to improve their health. "It's a challenge to balance with academics," she says of the project, "but if we catch the interest of at least five patients, that would be enough."