Students receive prestigious Schweitzer Fellowships
One of the key tenets of a Jesuit education is to help students become men and women for others. It's a theme that surrounds Loyola students every day on campus, from the courses they take to the organizations they join.
Three current Loyola students have taken that mission to a whole new level.
The three—medical students Kamaal Jones and Pablo da Silva, and law student Heidi Cerneka—were recently selected for the prestigious Albert Schweitzer Fellowship program and will spend the next year working on health care related projects to help underserved communities in Chicago.
Named in honor of famed humanitarian Dr. Albert Schweitzer, the fellowship program encourages students to design and implement a project that addresses an unmet community health need. Fellowship recipients must partner with an existing organization and commit at least 200 service hours to their project—on top of their already heavy school workloads.
Schweitzer once said: "The purpose of human life is to serve, and to show compassion and the will to help others." Jones, da Silva, and Cerneka are doing exactly that. With only 250 Schweitzer Fellows chosen nationally each year, these three Loyola students are truly among elite company.
---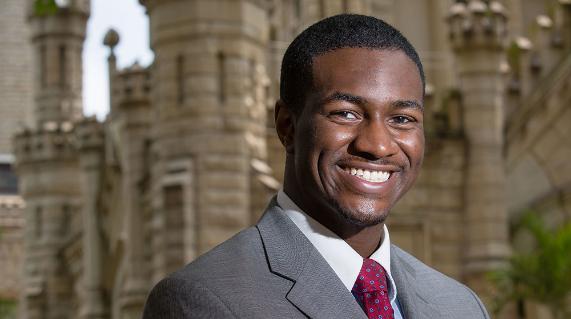 Kamaal Jones
Stritch School of Medicine
Hometown: White Plains, New York
Working with: Project Brotherhood
What brought you to Loyola?
I was drawn to the School of Medicine because of its focus on holistic care. It's really ingrained into the culture here at Loyola that medicine is not simply about writing a prescription—it's about being present with our patients and working to understand the complex and dynamic factors that influence their health outcomes. And it also certainly doesn't hurt that the cafeteria makes a mean chipotle chicken sandwich.
Talk a little about your project: what it is, how you became interested in it, and what you're looking to accomplish.
I will be working with Project Brotherhood, a health clinic in the Woodlawn community on the South Side of Chicago. We'll be teaming up with a couple of high schools to establish a public health oriented program that works with students to identify the most important health related concerns in the community and pushes the students to be the drivers of change for these issues. I entered medical school knowing that I wanted to do my work in this specific community, and as I listened to and reflected on the thoughts being shared by some of my mentors at Loyola and within Project Brotherhood, this idea began to take shape.
How does it feel to be a Schweitzer Fellow?
It feels pretty amazing! I applied to be a Schweitzer Fellow because I knew that it would enable me to be a part of the positive change happening all throughout Chicago. What I didn't fully grasp, though, was just how much support I would be receiving. I'm already learning so much and we've just gotten started.
And finally, what do you hope to be doing 10 years from now?
A decade from now I just hope to be doing the kind of work that pushes things forward. Ultimately I went into medicine because I knew it would be a cool way to serve my community. Ten years from now, I think the focus will still be the same.
---
Pablo da Silva
Stritch School of Medicine
Hometown: Kearny, New Jersey
Working with: Stritch School of Medicine
What brought you to Loyola?
Loyola was the first medical school in the nation to openly welcome applicants with Deferred Action for Childhood Arrivals (DACA) immigration status. As one of the DACA students currently attending Stritch, I'm living testimony to the University's strong commitment to equality and social justice. Also, I have a strong interest in public service and global health, both of which Loyola is well known for.
Talk a little about your project: what it is, how you became interested in it, and what you're looking to accomplish.
My project aims to help community college students become health care professionals. Often times these students don't pursue careers in medicine due to the lack of proper guidance and poor counseling. Students will receive mentorship at the Stritch School of Medicine, where they will experience not only what medical school is like through workshops, Q&A sessions, and hands on activities, but also learn the necessary steps to get there.
How does it feel to be a Schweitzer Fellowship recipient?
Along with Giuseppe Moscati, Florence Nightingale, and Bezerra de Menezes, Albert Schweitzer has always been a figure I've respected and admired. I'm excited, humbled, and truly thankful to be a Schweitzer Fellow. This fellowship shows how his life's work and legacy is still impacting us all.
I hope to be practicing medicine as a cardiothoracic surgeon here in the U.S., while participating in medical mission trips abroad. Additionally, joining an NGO, such as Doctors of the World and Doctors Without Borders, has been a dream of mine for quite some time and was one of the main reasons I entered the field of medicine.