Loyola Names Eva Wojcik, MD, Faculty Member of the Year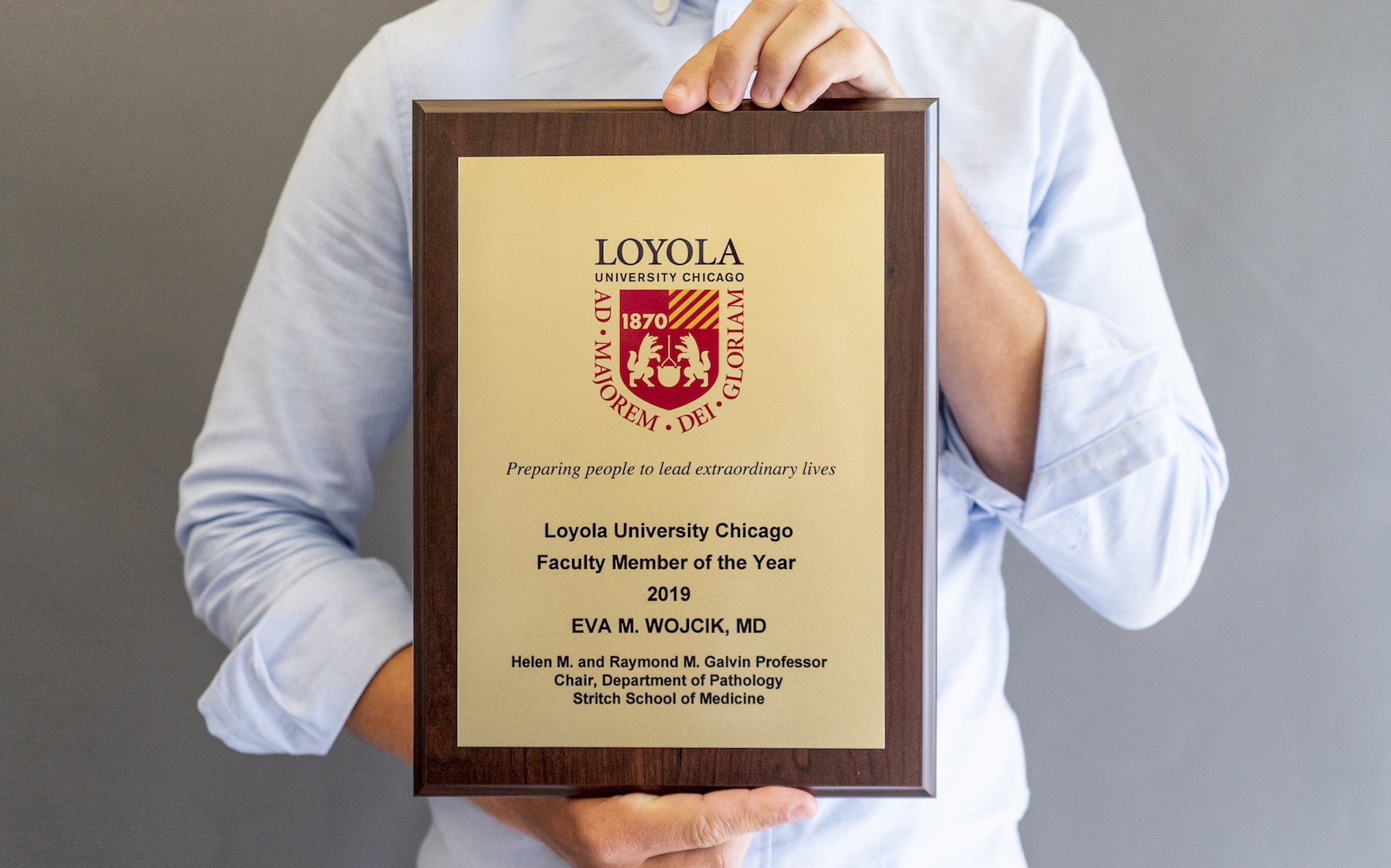 As the first female chair of Loyola's Pathology Department, Eva Wojcik, MD, is a role model for many young women looking to make their mark on the world of medicine.
"I always keep saying, if I can do it, anyone can" said Wojcik.
But she didn't always see it that way. Growing up in communist Poland, Dr. Wojcik never perceived her gender as an obstacle to her career. "Until all those talks about diversity started, I didn't feel as though there was any difference," said Wojcik.
After earning her degree from the Medical Academy of Gdansk, Poland, Dr. Wojcik came to the U.S. to complete her residency in anatomic and clinical pathology at Wayne State University, Detroit Medical Center followed with a fellowship at the M.D. Anderson Cancer Center at the University of Texas in Houston. She joined the Stritch faculty as an assistant professor in 1997 and was named Chair of the Pathology Department in 2007. "For a long time, I was one of only a few female chairs," said Wojcik.
During her Loyola tenure, Dr. Wojcik has established an impressive resume. She serves on several national committees and editorial boards such as the Journal of the American Society for Clinical Pathology and the Archives of Pathology and Laboratory Medicine. She is also a past president of the American Society of Cytopathology. She has authored or co-authored more than 120 articles in leading peer-review journals; of note, her English language skills were all self-taught.
And at Loyola's 2019 Faculty Convocation, Wojcik was named Faculty Member of the Year by Faculty Council, Loyola's highest elected faculty body representing more than 2,000 faculty. Each year, faculty members nominate colleagues from all of Loyola's schools and colleges and an awards committee selects finalists and the winner.
"Her exceptional research and scholarship have changed patient care," wrote Margaret Callahan, CRNA, PhD, FNAP, FAAN, Interim Provost and Chief Academic Officer and Senior Vice President, Strategy and Innovation, Loyola University Chicago. In her letter of support, Dr. Callahan continued: "as a clinical scientist there is no greater contribution."
A pathology colleague at Northwestern's Feinberg School of Medicine, Rita Nayar, MD, regards Wojcik as "a strong, inspiring, highly ethical and respected individual and pathologist." In a letter of support, Dr. Nayar describes Dr. Wojcik's teaching style as unique, with a "wonderful sense of humor that generates much enthusiasm and interest from her students."
In addition to the Loyola Award, next month, Dr. Wojcik will receive the 2019 Excellence in Education Award from the American Society of Cytopathology, a distinguished national professional society of scientists and physicians dedicated to diagnostic pathology. She also recently received the Humanism in Medicine Award from Loyola's Organization of Student Representatives (OSR), a student group of the Association of American Medical Colleges. When asked about all the awards, she said, "I don't know how someone can get an award for something they're doing that they like… that they love."
Wojcik attributes much of the recent recognition to her lead work on The Paris System for Reporting Urinary Cytology.
"It's a new reporting system that truly changes the way we report urine cytology and detection of bladder cancer," she said. Since its publication in December 2015, it's been translated into numerous languages and has been shared by Dr. Wojcik at seminars and lectures around the globe.
While Dr. Wojcik's contributions have made their way into the international spotlight, she's also made her mark in Maywood. For the past five years, she has led the "See, Test & Treat" program, which, with grant support of the College of American Pathologists, offers free, annual cancer screenings to uninsured and underserved women in the community.
 "Every time we complete the program, we are all extremely tired, but we feel so good that we've done something so incredible for the community. That day we also treat the human spirit," she said.
The only feeling better than giving back to the Maywood community? Watching her students go out and do the same. "I think the biggest pleasure and the most rewarding feeling is when one of your students, one of your mentees, achieves and is successful in their career," said Dr. Wojcik. "You're so proud of them and it's really amazing…they're all over the country as residents/fellows/faculty and they're doing great. This is the most rewarding."
Wojcik embodies the Jesuit mission in everything she does.
"She daily demonstrates to our students, faculty, and staff what it means to be dedicated to a profession and the important responsibility of educating the next generation of providers," wrote Dr. Callahan in her letter of support. "Dr. Wojcik is a wonderful example of a servant leader. She places her faculty, staff, residents, and students above all else."