Feeding the Frontline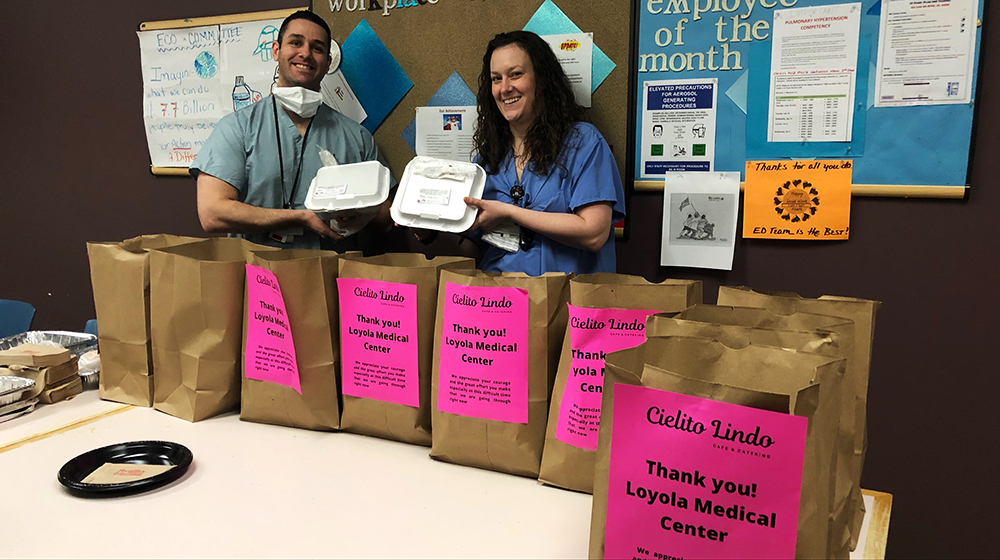 The smell of Jamaican food filled Samantha O'Connor's apartment three weeks ago as she cooked dinner for her husband. It was then that she started to think about all the health care workers who might not have time for a hot meal that night.
"How many clinicians are going home after a 15- or 18-hour shift and preparing a home-cooked meal? Having a meal delivered is just one thing you can take off their already busy plate," says O'Connor, a third-year medical student at the Stritch School of Medicine.
O'Connor began calling classmates, asking if they might consider pitching in a meal or two. Then, she came across a friend in isolation because of coronavirus (COVID-19), who offered to donate the cost of a meal since she wasn't able to cook herself. That's when the idea of creating a GoFundMe campaign formed. O'Connor teamed up with M4 Kyle Wieschhaus, M3 Brendan Daly, and M3 Kevin Singh, and the team reached out to Loyola's Center for Community and Global Health (CCGH) for support.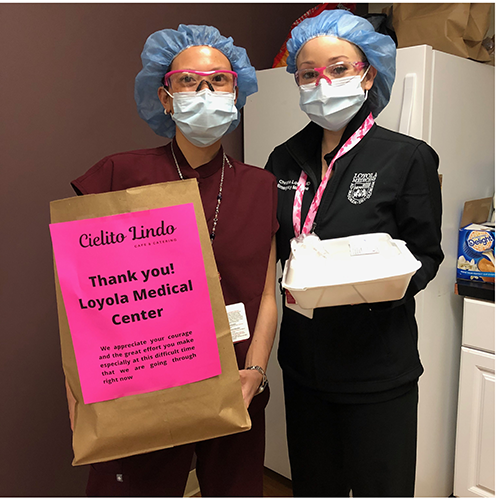 "It's amazing when we have a student-led effort like this," says Lucia Garcia, assistant director of global health education. "We offered advice and helped facilitate communications with the hospital and our community partners, but the students have really driven this effort to support our health care teams."
With the help of Garcia and CCGH Director Dr. Amy Blair, the student-led team organized a GoFundMe page to raise money to buy individually packaged meals from local restaurants that could be delivered to health care teams at Loyola Medicine's emergency department and its COVID hotline. By April 7, the group raised more than $9,000 and delivered more than 600 meals. "I was shocked to see how quickly we raised the funds and how responsive people were. It's really inspirational to see people help out where they can," says Singh.
Like the rest of his class, Singh was unable to continue his clinical experiences when the pandemic hit. So, supporting health care workers who are on the frontlines is one way he can give back and continue to have an impact on medical care. "A meal can invigorate you. Taking that 20-minute break to eat a meal that was especially prepared for you, in appreciation of you, can change how you're going to care for that next patient," says Singh.
O'Connor also emphasizes that the effort isn't just feeding nurses and physicians, it's providing meals for every staff member working during the crisis. "Think about how much fear and stress all of these health care workers are under," she says. "This isn't just a meal; it's about demonstrating our appreciation for them and the sacrifices they are making to work."
Many Loyola Medicine employees have expressed their gratitude for the support. In a note to the student team, one physician writes, "With all the challenges we face in the world and at work, it takes extra effort to stay positive. These donations are a rare ray of sunshine that show me how much our community appreciates what we are doing and that also give me inspiration to keep doing it."
---
"Think about how much fear and stress all of these health care workers are under. This isn't just a meal; it's about demonstrating our appreciation for them and the sacrifices they are making to go to work."
-M3 Samantha O'Connor
---
And it's not just health care professionals sharing their appreciation. The local restaurants working with Loyola to provide these meals say the partnership is their largest source of income now. Firehouse Subs in nearby Stone Park writes, "Not only is this restaurant our family business, but we also have several families who work with us and depend on these jobs. Keeping our doors open to continue serving the community and maintaining our staff during this time is a priority. Loyola will always have a spot in our hearts."
This feedback motivates O'Connor and her classmates to continue raising money and providing meals until the peak of the outbreak in the Chicago area has subsided. Even then, however, they see the potential for continuing a similar effort in the surrounding Maywood community. "I was asked by someone who received a meal if we could instead use the money to support staff who had been laid off or diagnosed with COVID-19," says Garcia. "That got us talking about how we might continue to support our community and the Loyola Medicine staff after meals aren't necessary."
Since being inspired by her fragrant jerk chicken to serving hundreds of frontline workers, O'Connor is proud to see the impact her team and the other donors have had on both the morale of health care teams and community restaurants.
Learn more about the effort to provide food to frontline workers and find out how you can help.