John J. Skowron, MD, Distinguished Professorship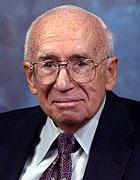 John J. Skowron, MD, was raised on the near north side of Chicago, attending first St. Mary of the Angels Catholic Church and then St. Constance Catholic Church, a parish his grandfather helped to found. He attended Weber High School and Wright Junior College before attending Loyola University for two years to complete his pre-med work.
Dr. Skowron attended Loyola University Stritch School of Medicine, graduating in June 1942. He completed his internship at Cook County Hospital in its heyday.
Dr. Skowron went into the service, spending 14 months working in a hospital at Hammerfield Air Force Base in Fresno, California. December 16, 1944 found Dr. Skowron working as a battalion surgeon in the infantry during the Battle of the Bulge. He continued as a battalion surgeon seeing active battle until the war ended in June 1945.
Returning home, Dr. Skowron completed his ophthalmology residency at Cook County Hospital, followed by a nine-month course in ophthalmology at Northwestern University.
Dr. Skowron opened an office in Chicago's Jefferson Park neighborhood beginning what would be a 40-year practice in ophthalmology, with a special interest in cataracts and glaucoma. During this time he became a faculty member at Northwestern University and continued in this capacity for many years.
Dr. Skowron has a keen interest in the education of our ophthalmology residents and his support of our program is an expression of his positive memories of Loyola. His generosity enabled the creation of the John J. Skowron, M.D. Resident Education Room in the Department of Ophthalmology. The Skowron Room is specially deigned for conferences and case presentations.
Dr. Skowron also endowed the John J. Skowron, M.D. Distinguished Visiting Professorship, which will be held twice each year, in March and December. Each conference will feature a prominent subspecialist in ophthalmology, who will discuss a current topic in their field. Faculty and residents alike will benefit from the lectureship established through Dr. Skowron's generosity, and the Department of Ophthalmology is deeply grateful for his support.
John J. Skowron, M.D., 90 years of age, passed away on Thursday, January 17, 2008. He was one of the earliest eye surgeons in the Chicago land area to perform lens implantation surgery. He leaves behind a medical legacy that few could surpass. He and his family were very dedicated, loyal and generous benefactors to his alma mater, Loyola University Stritch School of Medicine. He was a devoted family man, devout Roman Catholic, fond of traveling around the world, gardening at his home and playing golf and tennis. The world is grateful for his many years of dedication to his patients and his outstanding compassionate, humanitarian and philanthropic commitment to providing both patient care and teaching.