Chair's Message
JANUARY 2019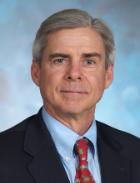 Dear Friends and Colleagues:
It is a pleasure for me to provide this update on the recent accomplishments and future directions of the Department of Ophthalmology. Our focus remains on collaboration and mentorship in the core missions of academic health care: patient care, education, research and service. The department's solid reputation continues to grow through our relationships with alumni, clinical colleagues, and research partners at other institutions in Chicago, across the United States, and internationally.
Our Patient Care Services at Loyola and Hines VA (HVA) have expanded in scope and depth. Currently, we have over 50 full- and part-time clinical and research faculty, two of which were named in the Chicago Magazine's 2109 Top Doctors. With the Loyola University Health System's (LUHS) purchase of McNeal Hospital (April 2018) and planned purchase of Palos Hospital campus in Orland Park (May, 2019), Loyola continues to expand its footprint in the Chicagoland Area. The Department of Ophthalmology registered over 70,000 Loyola/HVA combined patient visits in 2018, providing outstanding opportunities for resident clinical and surgical training as well as tertiary care services by our experienced and skilled faculty.
Our Educational Programs remain strong, with a sustained focus on our target audiences: medical students (UME), residents (GME) and practicing ophthalmologists and optometrists (CME). We are proud that Loyola SSOM medical student Joshua Chazaro was awarded the inaugural American Academy of Ophthalmology (AAO) and National Medical Fellowships Scholarship in Ophthalmology this year. Our department continues to lead the way in educational technology providing outstanding resident training as one of the finest clinical programs in the Midwest. Anuradha Khanna, MD, who serves as Vice Chair of Education, has established the Stereo Learning Center (SLC) in the Advanced Procedure and Education Center (APEC) in the Stritch School of Medicine (SSOM). This interactive 3D technology system has become a model for medical education and education research. Her work was recently featured in the AAO's EyeNet January 2019 issue: "VR Meets Medical Education." We continue to sponsor an annual citywide surgical wet lab as a service to the 66 residents from the 6 Chicago training programs. In the fall of 2018 we combined the surgical training session with the Cataract Glaucoma Symposium as a "Surgical Summit" and included industry-innovative speakers David Chang, MD and Malik Kahook, MD as surgical skill educators. Our educational and research programs continue to be supported by a generous annual gift from the Perritt Charitable Foundation.
Our CME Programs consistently offer outstanding content for local, regional and national attendees. Our Fall Cataract/Glaucoma Symposium, Resident-Alumni Day and Chicago Subspecialty Guest Lecture Series provide speakers and agendas of interest to the comprehensive ophthalmologist. In 2015, we established the Mark J. Daily Lectureship in Diseases of the Retina, which was funded by our resident alumni and private donors. In 2016, we initiated the Skowron Research Lectureship and Symposium, funded in part by a generous endowment from the Skowron Family, featuring prominent nationally respected clinician scientists. The 2018 Skowron Research Symposium featured glaucoma, diabetic retinopathy and uveitis. Our weekly Grand Rounds, which occur on Wednesdays, have been augmented to include an LUHS guest speaker outside of ophthalmology to provide more interdisciplinary discussion and Audio-Visual technology to enhance learning experiences. My intent is to emphasize collaboration with our colleagues and encourage a broad exchange of ideas in an ongoing effort to provide the highest quality residency training.
Our growing innovative research programs are reflected by the long list of publications and presentations by faculty and residents. In 2016, we recruited Simon Kaja, PhD, from University of Kansas City, to join our research team. Dr. Kaja is a neurobiologist with a long-standing research interest in human neurological and neurodegenerative diseases and visual disorders. His expertise lies in migraine, cerebellar ataxia, glaucoma, and inflammation. Dr. Kaja's lab is located in the Loyola Center for Translational Research and Education (CTRE). Evan Stubbs, Jr., PhD, continues to serve as the Director of Research with Bruce Gaynes, OD, Pharm D, Ping Bu, MD, and Omer Iqbal, MD, forming our core Basic Science research team. The Department of Ophthalmology also works closely with Jawed Fareed, PhD, from the Department of Pathology to further develop our basic science research focus on Stevens Johnson Syndrome and keratoconus. As Director of Basic Science Research Services in the department, Dr. Stubbs has established a solid research program for the residency program, improved our submission process and fostered numerous collaborative efforts with the basic science faculty.
Every year, the department receives important research grant support from the Illinois Society for the Prevention of Blindness (ISPB). Over the years, Loyola medical students and residents have received the ISPB James McKechnie Award for excellence in research (2015, 2016, and 2018). Andy Pittner (SSOM 2016), Andrea Blitzer (SSOM 2016), and Lindsay Ambrecht Grotting, MD ('17) were recipients of ISPB grant awards and were also highlighted in video interviews by the ISPB. We also continue to receive major annual funding from the Richard A. Perritt Charitable Foundation. Bruce Gaynes, continues to serve as the Director of Clinical Research Programs for residents and medical students. All residents are assigned faculty mentors for research, with the goal of an ARVO presentation and manuscript submission for each resident. As a tribute to the Department Research Mentorship, Loyola residents have received at least 1 of the 3 Beem Fisher Awards in 6 out of the last 8 years (since 2011) with 5 being First Place Awards. These awards are presented by the Chicago Ophthalmological Society (COS) and recognize outstanding research by Chicagoland residents. Additionally, in 2018, 2nd-Year Resident, Michael D. Henry, MD, earned the AAO's Best Poster award for his project, "Minimally Invasive Glaucoma Surgery Wet-Lab: A Needs Assessment Survey and Skills Training for Ophthalmology Residents."
Our tradition of International Service has grown, and we currently sponsor 2-4 trips per year., supported in part by The Thomas Stamm, MD World Service Endowment. In 2016, Anya Gushchin, MD joined the HVA faculty. A former Global Health Ophthalmology Fellow at the Moran Eye Center in Utah, Anya has dedicated time and her oculoplastics skills to train the ophthalmologists in Ghana and Papua New Guinea. Chief Resident, Maddie Ripa, MD, joined Anya's last trip to complete multiple consults, surgeries, prosthetic implants, and lectures. Since 2012, we have partnered with alumnus, Ahsan Khan, MD, ('04), Director of Humanity First Guatemala (HFG), and outside ophthalmologists to serve patients in Guatemala. In October 2018, HFG completed the construction of Nasir Hospital which will be the destination for our future mission trips to Guatemala in Ophthalmology and perhaps other Loyola specialties.
Loyola also hosted the 4th annual Chicago Global Health Reception on August 10, 2018, at Bean Hall on the Loyola Chicago campus. Stephen Petty, MD was the Richard G. Gieser World Service Lecturer and alumnus Brent Hayek, MD ('06) was the Global Health Alumni speaker. This event, also sponsored by the Thomas A. Stamm Endowment for Global Health, provided networking opportunities for the Chicago area residents, academic attendings and practicing ophthalmologists and optometrists interested in pursuing mission work.

Our excellent professional and administrative staff members round out our team and support the efforts of all to maintain our role as an academic and educational center of excellence in the Midwest. In our academic offices, in the clinics, operating rooms, and research labs, our committed staff helps manage patient care, educational events, research programs, and more. I am very appreciative of contributions and dedication of the support staff.
Finally, our 2018 AAO event at the Loyola University Museum of Art, was a great success! I look forward to seeing many of our alumni and friends at the Annual Resident Alumni Day on Friday, June 14, 2019, and also at the AAO Alumni Reception in San Francisco on Saturday October 12, 2019.
Thank you for your continued interest in the department. I welcome your feedback and appreciate your continued support.
Warmly,
Charles S. Bouchard, MD, MA
The John P. Mulcahy Professor and Chairman
Department of Ophthalmology