Welcome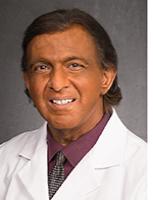 Greetings!
Throughout our lives, we're faced with choices that profoundly impact ourselves and others in a myriad of ways. When Loyola University recruited me to lead the Stritch School of Medicine's Department of Medicine, one thing made my decision simple: Loyola's promise to prepare people to lead extraordinary lives.
What an incredible promise, particularly to those seeking careers in medicine and medical research. That, coupled with Loyola's commitment to fostering a diverse community that works to expand knowledge in the service of humanity, made joining the Department of Medicine irresistible to me.
Now you, as a residency candidate, future faculty member, patient or donor, have a similar choice to make. Which is why I invite you to explore the pages of our website and learn about the many extraordinary things our people are doing within the interconnected realms of education, research, and clinical care and the opportunities these activities create for you.
I will tell you our quest for excellence knows no bounds. Our Department is one of a few in the country to achieve three straight years of 100 percent pass rates on the Medicine boards…U.S. News & World Reports ranks our Cardiology and Gastroenterology programs among the top 40 in the nation…our research enterprise includes cutting edge medical informatics, biostatistics, mathematical modeling, and molecular design and funding is on the rise. Lastly, we recently established a program in International Medicine that is expanding the horizons for collaborative research, education, and clinical service in India, Africa, South America, and right here in Chicago. This groundbreaking program is designed to cross borders, overcome barriers, find solutions to infectious and chronic diseases, nurture empathy and leadership, and make global health a local priority by recognizing universal commonalities. The depth of interest and enthusiasm for this new program is inspiring and humbling.
The Department of Medicine at Stritch School of Medicine has much to offer. You will find a great appreciation for diversity in its many forms and a distinguished faculty, talented trainees, and an administration ready to mentor, challenge, support, and care for you. Enjoy your visit to our site and I hope to see you here at Stritch very soon.
Ravi Durvasula, MD
John W. Clarke Endowed Professor and Chairman
Department of Medicine
Loyola University Chicago Stritch School of Medicine