Message from the Chair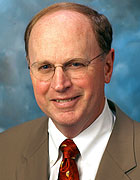 An intense dedication to providing the highest attainable clinical care while preserving the individuality, privacy, and dignity of the patient—along with a commitment to offering the best in medical education and research—are values that have been integral to the department since its inception in 1919, long before Loyola's Foster G. McGaw Hospital opened its doors.
Through the years, the Department of Urology, along with the entire Stritch School of Medicine, has grown in both size and diversity. The most dramatic change came in 1969 with the opening of the medical center campus, at which time Chairman Dr. Roland R. Cross, Jr. combined the previous Hines VA program with Loyola's new hospital. By the mid-seventies, Loyola had become a stable entity with programs that began to flourish in the 1980s.
In the past decade, the number of urology faculty in the department has tripled, and now includes 16 full-time members consisting of 11 urologists, three urogynecologists, and two research scientists, as well as seven voluntary faculty. Other changes in the department include its expansion to outpatient satellite clinics; robotics, laparoscopy and renal transplant; the use of radiation seed implants and cryosurgery for cancer treatment; the development of a multidisciplinary female pelvic medicine service.
The residency program has also expanded, accepting three new physicians per year for the six-year program. The faculty strives to provide the best and most complete clinical training and research experiences to the residents in all areas of urology.
Our physicians provide a comprehensive array of general, tertiary, and subspecialty care to adults and children. Current specialties include urologic oncology, renal transplant, pediatrics, stone disease, incontinence and female pelvic medicine, erectile dysfunction and male infertility. The faculty is also dedicated to the study of diagnostic and predictive factors influencing disease, and the development of treatments and surgical techniques to improve patient outcomes.
The urology faculty conducts wide-ranging research and provides patient care at both Foster G. McGaw Hospital/Ronald McDonald Children's Hospital and its neighboring Edward Hines VA Hospital, as well as several of Loyola's satellite clinics. The Oncology Institute and Cardinal Bernardin Cancer Center at Loyola Provides a unique setting for outpatient assessment and treatment of prostatic, testicular, renal and bladder cancers, and allows expansion in the area of research. The division of Female Pelvic Medicine and Reconstructive Surgery is a national model for the integration of urologists and gynecologists in the care of female voiding dysfunction and pelvic prolapse.
The growth and development of the Department of Urology at Loyola has ensured its status among the nation's finest. I thank the department's outstanding faculty and staff for the continuous commitment to excellence, which allows us to provide the best training to our students and patient care to the population we serve. We remain particularly proud of the department's many important research programs and the role they play in advancing medical care for patients.
Robert C. Flanigan, MD
Albert J. Jr. & Claire R. Speh
Professor and Chairman